Grants for Schools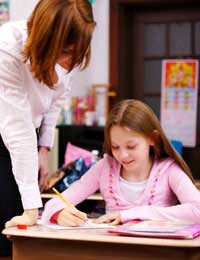 Schools in the UK are mainly funded through LEA funding. Schools are usually able to spend the majority of their funding as they see fit and as best meets their needs and those of the students.
Additional to this funding, however, there are a variety of grants available. These grants for schools are often for a specific purpose and they are offered by a wide range of organisations.
School grant applications will usually need to demonstrate that resources are not available within the school's current funding.
What Can Schools Get Grants For?
Grants are available for schools so that they can develop and improve in various ways. For example:
Schools can apply for grants for equipment such as books, stationery and resources.
Grants are available for schools to stage events or organise trips.
Grant money is available to develop certain subject areas such as music, art or science.
Schools may apply for grants to develop, improve or expand their building, grounds and facilities.
Sports grants are available to promote exercise and sporting activities for young people.
Environmental school grants are on offer to promote the use of green technologies and renewable energy in schools.
ICT grants to develop schools' IT resources.
Some grants provide money for childcare and health and social care facilities within schools.
Who Provides Grants for School?
Grants for schools are on offer from both large and small organisations. Some of the main school grants on offer are available from:
Lottery Funding – This includes funds from National Heritage, the Arts Council and the Sports Council.
European Funding – This includes funding from Structural Funds, Community Initiatives and Community Action Programmes.
Single Regeneration Budget – These funds are intended to support regeneration initiatives, for example schemes which create employment, develop skills or have a positive environmental impact.
Trust Funds – There are a number of UK trust funds which give out small or local awards to fund various school equipment and resource needs.
Private company and charity grants – A number of private and commercial companies and charities offer grants for schools. Examples are the Foyle Foundation and the Tree Council.
Some school grants are offered 'in kind' rather than through funding, for example in the form of land, buildings or capital.
Finding out about Grants for Schools
Finding out about grants for schools is not always easy. One way to find out about the latest grant opportunities is to compile a list of resources – places which annually or regularly offer school grants – and check them regularly. Use the sources listed above as a good starting point for your research.
Sign up to grants websites which provide alerts and regular newsletters on the latest funding opportunities.
There are sites such as the Grants4schools website which provide a central resource for school grant information. These sites do charge a fee but offer a centralised information resource which many schools find valuable. Searchable grant databases, calls for proposal alerts and deadline reminders can save schools time and money.
Information on trusts which offer school grants and funding opportunities is available from the Charities Aid Foundation Directory of Grant Making Trusts.
You might also like...
H.K Standard Education Academy(H.K SEA) IS a low cost private school which is based in Ndola Zambia. The school started in 2012 and has been in operation for 6 years now and it is registered. From the tuition fee paid by the learners,the school has managed to build a one by three classrooms block and has roofed one classroom. We aim to provide standard education to our learners. The school is therefore seeking for interested people to invest in it so as to improve the lives of people through the provision of Standard Education. Once the school is expanded to the standard desired, investors are promised a happy and ever smiling lives. Interested people can come in person to Zambia and see what is being talked about for themselves. The land is vast for expansion even to a level of a University. Thanks for your time
Hakapembwa
- 3-Apr-18 @ 6:49 PM
In a particular part in the central part of Ghana and one peculiar issue among the girls here is lack of skills to help them cater for themselves as the grow into adulthood an this problem pushes them to either marry early or get pregnant early. I really have the passion to build a vocational school here equip these young and beautiful talents. Please how can I get help financially. Thank you.
Arthur
- 28-Mar-18 @ 9:46 AM
I need help inexpanding my school. The children are doing so well and losing their academics is something I can't watch happening. We are on facebook thus Pistis Montessori school. I pray God touch someone heart to come to our aid. Blessings
blessings
- 7-Mar-18 @ 3:14 PM
how can i access a fund to undertake a professional course which can help me become indipendent
commissioner
- 6-Feb-18 @ 5:04 PM
We are a Non profit organization that helps and cater for vulnerable and needy children let's in rural areas. We would like to start for them a school, contact so we request to for the buildings .
Bavefi
- 17-Jan-18 @ 6:52 AM
Thanks for that.How do i get connected get agrant for building aprimary school?
Asante
- 9-Jan-18 @ 8:54 AM
I'm a teacher by profession in Kenya and would like to thank you for good work of promoting education across the world.
Standard
- 16-Nov-17 @ 7:18 PM
Iam originally from Kericho in Kenya but reside in Norway. After many years staying in Norway, I thought of helping my community in Kenya. I have started construction of classrooms now. I am almost completing four of them using my own monthly earnings. I now resort to asking for help because there is still much to do, like toilets, computer and library room and laboratory room, teachers residences and other classrooms. Iam looking for donors to help my community. I look forward to hear from you. Whoever chooses to help is welcome to visit Kenya and see what we have done so far. Please help us reach many willing donors. Yours sincerely Sammy Korir
Kipterer
- 17-Sep-17 @ 3:16 PM
Hi there, I'm from a school in North Aberdeenshire, Scotland and our S5 gold youth achievement award group are planning a trip to Morocco next October to help underprivileged schools there with maintenance and teaching English as part of our YYA and we're wondering if you could point us in the direction of funding to help pay for plane tickets and supplies or for advice on ways to approach fundraising as we really want to go and help other that don't have what we do. Thank you very much.
Ams
- 14-Aug-17 @ 10:54 PM
Hi I am a full time government officer and having been to studies in High School in New Zealand public High school and employed in my country government office I see the need to provide that high level of education system in my country. For start I would like to build a high school that will use and international government education eg NZ Qualification Authority etc. therefore I am seeking for financial assistance for start and later my government can fund. I have huge land that can accommodate the whole boarding facilities. Thanks for any comments and opportunities of assistance fort coming.
Leader
- 25-Apr-17 @ 8:46 AM
Revelation Children's Ministry International (RCMI), is a Ugandan non-profit, we have open up a nursery, primary and technical school to support the orphans and needy children in Uganda andwe are currently working on a project of constructing classrooms and dominatrices . This will serve 3000+ orphans and needy children in our community. We are writing to you to inquire about the potential of paternership for the purpose working together to raise fund to support our projects We would like to know if RCMI qualifies for this type of paternship and if we could receive more information. Please let us know. Thanks! Michael and Esther
mik3
- 4-Apr-17 @ 2:00 PM
Hi,I am studying my UG in Narasaraopet,Andhra pradesh.As i am a poor class from birth,i studied at government schols and government colleges till my intermediate.But now as i joined in UG in a private college,my parents are not in a stste of paying my fee.I have many problems regarding my family.as i am a merit student in studies,i am unable to concentrare on my studies due to my financial proflems.I hope that you will help me.This is not only a request by a student....this is a hope of a family.Please help me........
Venky
- 23-Mar-17 @ 5:37 AM
Hie, l am a 20 year old Zimbabwean and l wrote my advanced level last year and would like to ask for funding to pay for my school fees owing for last year so that l collect my results.My parents divorced in 2015 and lmy mother is not able to pay for my fees.I am also in need of money to pay for my university l want to study with Copperbelt school of mines in Zambia.l will be grateful if you help me.
PEACY
- 20-Mar-17 @ 9:39 AM
I am a 16 year old student doing my form four at Herentials group of colleges in Bulawayo seeking for financial help to pay for my school fees and examination fees.I will be happy if anyone helps me my Dad died on a car accident when l was in grade 7 and my aunt who was paying for me lost her job last year now l have no one to pay for me.Thank you
PETTY
- 20-Mar-17 @ 9:31 AM
Hi I need help for my younger brother school fee in order for him to continue His study,The main issue is because our parent has passed away since childhood so I cannot afford His School fee,He properly finnished his study in 2 more years.so Im looking for funds if possible
Tyty
- 11-Mar-17 @ 2:27 AM
i'm studying mbbs in lahore pakistan.my parents can't afford my fee.i'm studying in private medical college.kindly grant me some donation so that i can pay my college fee.
zohaib
- 8-Mar-17 @ 1:57 PM
Hi i am Evans Mogere Omonyi , i am 23 years old i completed my secondary education the year 2012 and i passedasresult iexpected to join university to further my education so that i can be to settle down family financial sattusof which up to the moment isdream, am single parentedonly my father is alive even though HE IS INSANEhe doesnottake any parental responsibility because of hismental status i therefore request for kind of assistance so that i canproceed with my university education dream to make it reality. anybody interested just help thanks
Mogere
- 5-Dec-16 @ 7:47 AM
Hi just wondering of and advice, support in direction to possibly apply for some funding. The school is situated in remote place in India. The students financial statues is very low. We are looking fro some funds for the good infrastructure. Please help me in our dare need with your financial support. looking forward for your generous support. Thank you . God bless you.
THERES MARY
- 18-Nov-16 @ 9:25 AM
Hi there, I went to a technology conference this week and was really inspired by the virtual reality headsets they had there, would love to get some for cross-curricular work within school. Is there somewhere you could point me in the right direction to raise some money to go towards the purchase of some? Many thanks, Katie
FroggattK
- 14-Nov-16 @ 6:53 PM
Please can you help. I am looking for funding options for a new classroom for an academy school. The school was nearly shut down a few years ago to not enough pupils. But now it's at capacity and bursting at the seems. Currently we have a class of 30 taking lessons in any space that is free as they do not have a fixed classroom. The Council currently do not have the funds to help us develop this school
Lianne
- 12-Oct-16 @ 8:28 PM
Hello,iam a primary school teacher in kenya.I would like you to renovate our school.broken widows. Uncemented doors and good modern toilets.currently our boys have no toilets.
Elsie
- 9-Oct-16 @ 8:53 PM
Luci - Your Question:
Hi, our son has been going to private school since reception and last year he moved to a secondary school, he is currently in year 8, we have always paid for the school fees, however, we are now facing financial difficulties and have approached the school regarding bursary, but have been told that we should have requested one when we applied for the school. We have been unable to pay the school since April this year and are desperately trying to resolve this issue in order to keep our son there.My question is, is there any institution in the UK that offers school fee financial assistance for families like us that always paid for private education and because of the change in the circumstances are unable to carry on paying? I look forward to hearing from you. Thank you and kind regards,
---
Our Response:
I can only direct you to the link: Applying for Funding from an Educational Charity
here
. Dependent upon your financial circumstances and whether your financial situation is likely to improve, your school may have a hardship bursary. These are short term and are designed to tide parents over so pupils can remain at the school.
FundingEducation
- 7-Sep-16 @ 12:27 PM
Hi, our son has been going to private school since reception and last year he moved to a secondary school, he is currently in year 8, we have always paid for the school fees, however, we are now facing financial difficulties and have approached the school regarding bursary, but have been told that we should have requestedone when we applied for the school.We have been unable to pay the school since Aprilthis year and are desperately trying to resolve this issue in order to keep our son there. My question is, is there any institution in the UK that offers school fee financial assistance for families like us that always paid for private education and because of the change in the circumstances are unable to carry on paying? I look forward to hearing from you. Thank you and kind regards,
Luci
- 6-Sep-16 @ 6:20 PM
Hi,Am a kenyan born total orphan in kisumu struggling with life especially to pay for my education.I have managed to pay part of the fee and currently have a balance whuch is proving somehow tuff for me.My request is that if you can help me finish pay my education through my humble plea.
Hi. Anyone got any advice as to where to try for a grant to improve an outdoor learning space for children in reception classes. We have a tatty area which needs a big injection of cash to improve it and make it safe. We are a large primary school in Hastings. We support a high proportion of disadvantaged children and those with English as a second language. Our current space has proved invaluable in supporting their development. It has a dedicated full time member of staff who runs the outdoor space all year round. All weathers. However we desperately need to make changes in order to continue to make a difference
Hi, I hope you are in the best of health when you receive this letter. I'm a Kenyan male named Austine Odiwuor Muga (+254711890143) currently residing in Eldoret, Rift Valley County. I did my KSCE examinations in 2009 and managed to attain a mean grade of B-(minus). Since finishing high school, I have never managed to go to college owing to the fact that my parents (my father passed away in 2005 mere months before I sat for my KCPE) were/are financially unstable. Currently, my mother bears the responsibility of taking care my younger siblings although she strains significantly just to make ends meet. Throughout my life, I have always dreamed of joining college because I believe it is the sole avenue through which I can succeed and ultimately alleviate the suffering my family has had to grapple with for far too long. Unfortunately, finding willing individuals to sponsor one's education continues to be a challenge in the nation. I have to admit that my KSCE grades are not as impressive as those recorded by other top high school graduates, but that is down to a number of crucial factors, which may be difficult to capture in this letter. Nevertheless, if need be, I am more than ready to explain why I failed to score highly in my KSCE examinations. Following the completion of my secondary education, I triedto seek various employment opportunities through which I could raise some money to self-fund my college education. Once again, such endeavors have been hampered by the scarcity of such of opportunities and the meager pay offered in case one is lucky enough to land them. In addition, with my mother carrying the burden of taking care of my younger siblings, I always try to chip in financially whenever possible as I believe I have grown enough to contribute to familial responsibilities. On a positive note, I managed to find a job that offers an average pay by Kenyan standards in mid-March, 2016. It is not enough to cater for my school needs given the fee charges in majority of the academic institutions in the nation. I raise (on average ) 12,000 thousand shillings a month, which is about 120 US dollars. Since then, I began to set aside whatever amount I can to inject into my academic fees as I have already registered to Kissii University, Eldoret branch, which begins in early May, 2016. I decided to register for a Diploma course in Community Development and Social Work (I do qualify for a degree course) because I am certain I cannot afford a degree course given my low earnings. Indeed, even the diploma fee is still high and may call for extreme straining to be met, something that would inevitably lead to a reduced focus on school work to meet the fee. I also wanted to mention that I intend to attend classes on a part-time basis (on weekends) to allow for time to raise some money. The university charges 27 thousand shillings (roughly 270 US dollars) per semester (four semester for the diploma course). Thus
Austine
- 1-May-16 @ 10:38 AM
Am raising two orphans in my house Andrew Dzankambani aged 15 and Raphael Zalimba aged 13, both lost both parents at a tender age, both are still at primary school, i run a small business but can't meet all they needs, since i have my two daughters also, so am looking for any well wishers else where, who can help me to make these guys bread winners someday
master minder
- 22-Feb-16 @ 7:57 AM
I am a Kenyan. who have have set up a primary school to help raise the standard of education in Kenya. I am seeking a apartner. who can help me pursue this vital community service. I am willing to go any mile. and see the community standard is realized.
charles
- 31-Jan-16 @ 3:54 PM
Glazey - Your Question:
Hi there, I was wondering if you could point me in the right direction? I'm looking to find funding to support a build at our CofE primary school. We currently have an old mobile which houses 30children. We would like to replace this with a new build. Our LA does not have funds available but has offered a loan but we would need to find the outstanding amount. Could you point me in the right direction. Many thanks
---
Our Response:
In the first instance, I suggest approaching Grants4Schools via the link
here
. I hope this helps.
FundingEducation
- 13-Jan-16 @ 12:02 PM
Hi there, I was wondering if you could point me in the right direction? I'm looking to find funding to support a build at our CofE primary school. We currently have an old mobile which houses 30children. We would like to replace this with a new build. Our LA does not have funds available but has offered a loan but we would need to find the outstanding amount. Could you point me in the right direction. Many thanks
Glazey
- 12-Jan-16 @ 6:27 PM