Out-of-School Learning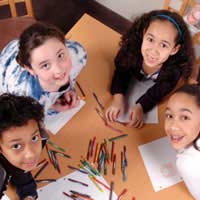 Out-of-school learning groups are becoming increasingly popular. There a number of ways your child can take part in out-of-school learning. Whatever form of out-of-school learning you are considering for your child, research has shown that out-of-school learning can be very beneficial to a child's education as well as providing a fun way of learning.
Out-of-school learning groups can also provide the answer to some childcare problems, for example if you go to work early or need someone to look after your child in the school holidays. Additionally, although you do have to pay for some out-of-school learning groups, some are free and even when you do have to pay, out-of-school learning groups are generally cheaper than options such as childminders and nurseries.
Types of Out-Of-School Learning
These days there is a wide variety of out-of-school learning options. Many out-of-school-learning groups are held in school, but some are held in other venues such as museums, galleries, and even outdoors. Out-of-school learning clubs can take place before school, after school, during the holidays, on lunch breaks and even on weekends. After-school-learning is voluntary, but many believe that it can really help progress children's learning, and often children really enjoy out-of-school learning activities.
As well as supplementing what children learn in school from the curriculum, after-school-learning clubs will often cover additional ground such as healthy eating, keeping fit and exploring artistic skills and creativity.
Out-of-school-learning clubs are usually organised by schools and Local Authorities, so you can ask at either of these places to find out if there's anything your child could get involved with. The types of out-of-school learning groups and activities which may be available include:
Breakfast clubs
After-school clubs
Homework clubs
Holiday play schemes
Art and craft groups
Sports groups
Computer clubs
Exam preparation groups
The Cost of Out-of-School Learning Groups
The cost of out-of-school learning groups can vary, and some are free. However, as a guide these are some of the costs you could expect to pay if you're thinking of placing your child in an after-school-learning club:
After-school clubs can cost between £25 and £50 per week. These after-school clubs usually run from the time school finishes to about 5.30 0r 6pm. A snack and a drink will usually be included.
Holiday play schemes usually cost around £50 to £75 per week. These schemes usually run from 9am, or a little earlier, to about 6pm. Snacks and drinks are often provided but you may be expected to provide your child with a packed lunch.
Breakfast clubs cost on average about £1-£6 per week. Breakfast clubs usually take place at schools early in the morning, from 7.30 or 8 until school starts. A simple breakfast will usually be included.
Help with Paying for Out-of-School Learning
You may be entitled to some help to pay for out-of-school learning and care. Some of the main sources of help include:
If you're responsible for one or more children under 16, you may be entitled to Child Tax Credit.
Child Tax Credit is means-tested. The amount you could be eligible for is based on your household income and the number of children that you have.
If your family is on a low income you may be able to receive a top-up in the form of Working Tax Credit. This money could be used towards the cost of any out-of-school learning.
Some employers provide childcare vouchers to help pay towards childcare costs such as out-of-school-learning fees. The value of the vouchers is taken from parents' wages and they are tax and National Insurance free.
Child Benefit is not means-tested and is paid to the parents of under-16s (and some over 16s depending on their circumstances).
Out-of-school-learning groups can provide a cost-effective, fun and educational childcare option. Ask today what's on offer in your area.
You might also like...
I've finished beauty school level 3 I'd like to do a DEploma which is a 2 year course on ODP nursing course , I'm not working and I'm single and I'm 35years of age can am Ieligible for funding or not? I look forward to hearing back from you.
Mimz
- 17-Jul-18 @ 6:27 PM
Hi i would like to know about funding foradult courses i dropped out school with no qualifications even though i was quiet clever my daughters at 6th form and id love to get some qualifications but im unemployed on benefits how does that work and can i do it
Nikki
- 4-May-18 @ 7:43 PM
Hi I would like to know some information regarding children's extra tuition provider and tuition fees.As a tuition provider, am i be able to register with Funding education so that i can give the tuition voucher and parents can collect the money to pay my tuition fees.If not, is it possible to say me where should i register for that. Thanks Roni
Roni
- 8-Jun-14 @ 1:11 PM
Hey I would realy be happy if I got a bursary and a loan would also be owk because I wll be able to pay it back when im fone wit my studing and working and I will make sure I pay it back so that other students who need funding like me will be able to get the money when they need is as well
Thando
- 19-Feb-13 @ 3:01 PM