Childcare Vouchers: What Are They and How Do They Help?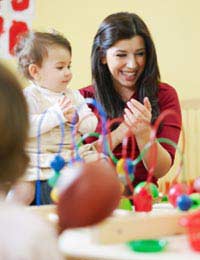 Childcare is a hugely expensive proposition. As many parents know, the cost of having their child looked after while they work can be astronomical, and this can make significant inroads into your pay packet.
Childcare vouchers can help to ease the burden of childcare on your wallet. They are available to many employees – indeed, you might not even know that you are entitled to them.
What are Childcare Vouchers?
Childcare vouchers provide parents of children up to the age of 15 with a way to pay for their childcare from their pre-tax, rather than post-tax, pay. Most people pay for childcare out of their wage packet – that is, out of their post-tax income. This is significantly more expensive than paying for it from your pre-tax income. If you use childcare vouchers to pay for childcare from your pre-tax profits, your total taxable income is reduced – meaning that your tax bill is cut.
Childcare vouchers are currently only available through employers. They generally work on a 'salary sacrifice' basis. This means that you 'sacrifice' part of your salary in exchange for childcare vouchers. So, if your pre-tax salary is £20,000, you might choose to sacrifice £1,000 of that in childcare vouchers. This is £1,000 that you would be spending anyway. The difference is that you don't pay Income Tax or National Insurance Contributions on that £1,000, as it is not considered to be part of your taxable earnings.
As such, childcare vouchers can offer a tax-effective (and therefore cheap) way to fund your childcare.
How Can I Get Them?
Childcare vouchers are provided by employers. They are generally offered as part of an employee benefits package, so you might get them along with things like a pension scheme, gym membership and so on.
Employee benefits are complex. Different businesses have dramatically different policies for employee benefits. While some offer very generous benefits packages, for example in an effort to attract top quality employees or make up for a relatively low headline salary, others can overlook benefits almost altogether.
Many employees do not realise that they are entitled to childcare vouchers. You should check with your employer to see whether or not childcare vouchers are included as part of your remuneration package. If they are not, you may wish to consider approaching your employer to see whether or not they would be willing to offer them.
Is There a Limit?
There is a limit to the amount of childcare vouchers you can use. Broadly speaking, you can pay for up to £55 per week of childcare using the vouchers, per parent – so if both parents are entitled to the vouchers you can effectively double your spend.
You should remember, though, that taxpayers in different brackets are treated differently. As of 2011, basic rate taxpayers are likely to receive a more significant tax benefit from their childcare vouchers. Furthermore, changes to the rules in April 2011 will mean that vouchers will be treated less favourably. You should speak to your employer or a tax specialist for more information.
I'm an Employer. What Can I Do?
As an employer, childcare vouchers also provide you with a valuable opportunity. Like many employee benefits, they allow you to reduce your tax bill while also increasing workforce morale and enabling you to attract high quality employees with a lower headline salary.
Childcare vouchers are often available as part of a fully tailored employee benefits package. There are many firms that will build a benefits package to suit your workforce, and this can be a highly cost-effective method. It is vitally important, however, that you understand the tax implications of childcare vouchers, along with those of any other employee benefits that you offer. If you are in any doubt you should speak to your tax advisor, or talk to HM Revenue and Customs for more information.
You might also like...