Choosing an Early Years Education Provider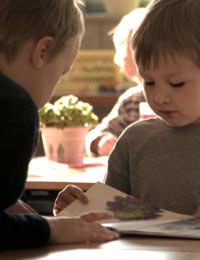 There is a wide range of early years learning available, and you will need to think carefully to decide what type of education provider is best for you and your family.The cost of early years education varies. Some is free or subsidised.
Nurseries
Most nurseries are private, although some state ones are available. They provide care and educational activities for children under five. Nurseries are also increasingly available at workplaces, particularly large companies and organisations.Your child may be eligible for a free place at a Local Authority nursery, although places are limited and reserved for children who are most in need.
The cost of a full-time private nursery can cost on average around £1,000 per month, but some government help is available. Nurseries are government regulated and inspected annually.
Childminders
Childminders are professional child carers who are registered to look after a small group of children in their own homes. As they work for themselves childminders can often be more flexible about hours and days of work than other early years education providers. Parents can also negotiate with the childminder regarding matters such as activities, learning schedules and meals. Childminders usually charge between £5 and £10 per hour but government help can fund some of the cost.
Childminders have to be registered with the appropriate government regulatory bodies. This ensures they have been checked for references, training, police record and health, and their home has been inspected to make sure it's a safe and suitable environment for children.
Pre-Schools / Playgroups
Pre-schools or playgroups offer sessional daycare, usually for around two or three hours at a time. A session at a playgroup will usually cost between £3 and £6.
Children's Centres
Children's Centres provide various services for families with children; for example, health care advice, family support, childcare and education information. Centres may also provide childcare facilities or be based around an existing nursery or childcare facility.
The government plans for parents to have access to a Sure Start Children's Centre in every community by 2010. These Children's Centres are part of the Government's Every Child Matters programme.
Nannies and Au Pairs
A nanny or au pair will work in your home. Like a childminder, a nanny or au pair can provide more tailored, flexible care and educational support for your child.Nannies and au pairs don't have to register with Ofsted but you may prefer to hire one who is registered with an approval scheme.
A nanny will probably cost in the region of £250 to £400 a week, depending on whether they live in or out. If you hire an au pair you'll be expected to provide free food and lodgings and pay weekly living expenses of £50 upwards.
What Type of Early Years Education is Best for You?
When researching and choosing early years education for your child you need to consider:
The cost and also any help with payment that's available. Our article on Paying for Early Years Education will help you with this.
Whether you are happy to follow a set programme or would prefer tailored care and early years education for your child.
How much time you wish your child to spend with an early years education and care provider. Do you want full-time provision or just a few hours per week?
Once you have narrowed down your search, you will need to vet carers and education providers individually in terms of facilities, experience, suitability and general overall impression.
You might also like...
I would like to open up an per-school in my village and in case you get a sponsor for me, please to send me an email. Thanks, ms Irene.
Acai
- 9-Jul-14 @ 2:36 PM