Donating Money to a School or University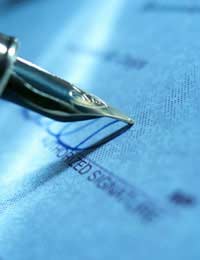 There are many reasons you may wish to donate to a school or university. It may be, for example, that you attended the school or your child is currently attending it. Another reason may be that the school or university is struggling financially or that it requires funding for a specific piece of equipment or event.
Regulations also mean that schools and universities can usually reclaim the basic rate of tax on donations. This means that they get more value from each donation without the donor having to pay any extra money.
Donations to schools and universities are often also referred to as 'gifts'.
Ways to Make a Donation
Individual schools and universities will be able to advise on the best way to make a donation to them.
The main methods of donating to schools and universities are:
Cheque
Credit card payment
Standing order
Charities Aid Foundation Voucher
Universities and schools welcome donations on a one-off or regular basis. Institutions especially welcome regular donations which are set up in advance as it helps them to plan future spending more effectively.
Gift Aid
If you donate to a school or university and sign a gift aid declaration you can increase the value of your donation by up to a third without paying any extra. This is because under government regulations which aim to benefit charities, schools and universities can reclaim the additional tax they would usually pay against donations.
Basically for every pound donated, the school or university can claim an extra 25p from the Inland Revenue. So, for every £10 donated the school or university will actually receive £12.50 – so gift aid donations can make a real difference to schools and universities.
Additionally, higher rate tax payers who make a donation can also claim personal tax relief against their donation.
Donating Shares
Donating to a school or university through giving shares means reduced Capital Gains Tax and Income Tax for the donor.
Schools and universities can provide more information on donating shares to them.
Pay As You Earn Donations
It's possible to donate to a school or university through your employer's payroll scheme. Your employer needs to be registered with a payroll giving agency – and this is relatively easy to do.
You'll need to fill in a form detailing the charity or charities you wish to donate to and how much each month. Donations are then deducted from your gross pay, before tax.
Matched Donations
Some employers offer matched donation schemes. Employers may match employees donations like for like, or the company may donate a similar amount to another charity. In some cases, employers will even double or triple employee donations.
Legacy Donations
Some people may not wish to donate money at the moment, but want to leave money to a school or university on their death. In this case the donation should be indicated in a will. As well as money, school or university legacy donations can be in the form of property to be sold or used by the institution.
You might also like...
I am retired, have just downsized, and have a little money in the bank,I would like to give some to my local secondary school (academy converter).I have no personal connection to it. Are there any tax considerations? IHT, Gift Aid, etc.
I want to go to UK for my higher studies. I applied for education loan which got sanctioned but am still sort of 5 lakhs. Kindly help me if possible. Do let me know. It would be great help. Kindly ping me or call me on. 7025198351
Kittu
- 18-Sep-19 @ 5:51 PM
I like to do my university education. But my parents haven't enough money. Hence I kindly request you to help me.
Dila
- 4-Apr-19 @ 12:59 PM
I am Student . I want to be Barrister but I hove no . If you able so kindly help me as soon as possible.
Azahar
- 16-Dec-18 @ 3:05 PM
iam father of 2daughter but my job can't pay for my kids well and dress or clothes
ssenkubuge
- 5-May-17 @ 6:42 PM
own a private school in Kenya in a small town gucha, face financial challenge in paying staff and the feeding program, mostly my parents are either from poverty stricken families or single parent, how can you assist the learners in meeting comfort. I'll appreciate.
daddy
- 9-Nov-16 @ 6:57 PM