Writing an Effective AHRC Research Proposal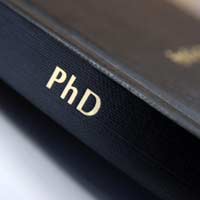 When applying to study for a PhD, the majority of applicants will have their sights set on winning funding in order to cover their living costs and tuition fees. Many prospective post-graduate students will apply for Arts and Humanities Research Council (AHRC) funding. Established in 2005, the AHRC is a Non-Departmental Public body. Sponsored by the Department for Business Innovation and Skills, their aim is to advance arts and humanities research. The number of AHRC studentships is limited and awards are highly sought after. To be in with a chance of securing AHRC funding, it is important to submit a well-crafted, thoughtful and academically rigorous application. This application will usually include a document summing up your ideas, aims, motivation and credentials - your Research Proposal.
The Research Proposal is essentially a condensed version of your argument and should usually take up no more than one side of A4. With so much riding on one short piece of writing, it's important to dedicate significant time and effort to your Research Proposal and to make it as effective as possible.
Situate Yourself Within the Current Academic Context
When it comes to writing your AHRC Research Proposal, it is vital that you demonstrate a familiarity with and understanding of the field in which you hope to work. Try to sum up the current academic thinking on the topic at hand. Site research trends and reference the works and ideas of a few key theorists, researchers or critics. Show an awareness of key concepts, debates and terminology.
Highlight The Gaps
Once you have demonstrated your knowledge of the critical field at hand, be sure to show how you have engaged with it. Adopt a critical position. Where are there gaps in knowledge and research? Where is the field lacking? Be specific and bold – explain the significance of this lack.
Situate Your Research
Clearly explain how your proposed research topic will work to fill this lack or open up new areas of study. In short, show how your work is relevant in the context of current academic thinking.
Demonstrate That You Have a Plan
Take care to show that you have spent time refining your key research aims and considering your methodology. Why are your chosen methods appropriate? What potential pitfalls might you encounter? Are there any ethical questions you need to consider?
Explain Your Choices
In specific terms, show why the institution and supervisor you have chosen are right for you and your research project. Does the university boast any resources that will be particularly useful to you? Is its location significant to your work? What are the research strengths of your supervisor and how will that be of benefit to you?
Set Out Your Qualifications
It is important to explain why you are qualified to embark upon your chosen PhD. Mention a few notable past achievements such as impressive grades, prizes and scholarships. You should also show how your thinking has progressed. What has led you to your current ideas and interests? This could be the work of a leading theorist, a module you took at undergraduate or Masters level or the influence of a favourite lecturer.
Show Originality and Focus
Even the most well argued and thorough Research Proposal will be unsuccessful if it doesn't demonstrate one vital quality – originality. Set out the issues, debates and contexts you will be working with but be sure to show how your response to these stimuli will be culturally original. What makes your idea unique? Here, it is important to be specific. What is your focus? Why is it relevant to the discipline and what effect or impact will it have?
Be Clear and Direct
Use simple, direct and expressive language, avoiding any unnecessary jargon. The ideas that you are discussing will be complicated enough, so don't cloud your argument with verbosity or overwritten prose. Above all, aim to make things easy for the reader. If they can understand your ideas and proposed methodology on the first reading, you'll be doing yourself a big favour. Never assume the reader is a specialist. Whilst subject experts will review your application, your Research Proposal may also be read by individuals who are unfamiliar with the topic at hand. Aim for clarity and fluency.
When sitting down to plan and write your Research Proposal, it is perfectly normal to feel doubts, criticisms and questions creeping in. Don't worry – such self-consciousness is a sign that you are thinking critically and carefully about your own ideas and methods. Seize upon any reservations you might have and build them into your Research Proposal to show that you understand the complexity of the debates you will be working with. Don't let your concerns get the better of you, though. A confident, self-assured tone is the hallmark of an effective Research Proposal.
You might also like...