Is it Worth Sending Your Child to a Private School?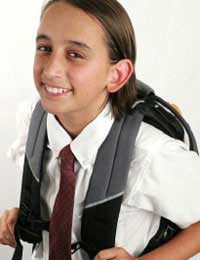 A full private education these days can costs upwards of £300,000 with prices continuing to rise every year. Whichever way you look at it educating your children privately is a big financial commitment, which you can't enter into lightly. As a parent you'll need to work out if you can truly afford it and if the benefits will justify the costs.
You will first need to assess how much money you would actually need to educate your children privately. Our article on The Cost of Sending Your Child to a Private School will help with this.
Catchment Areas
Many people choose to go down the independent school route as they are not happy with the state school provision in their area. State schools which are viewed as 'good' (usually judged on Ofsted reports) are often greatly oversubscribed, with some families even moving house to try to get into the catchment areas of better schools. Moving house for this reason will often mean buying a more expensive house, although with property prices continuing to rise many see this as an investment.
What are the Differences Between State Schools and Private Schools?
Private schools usually have smaller class sizes and achieve higher exam results than state schools. Private schools also tend to offer more extracurricular activities such as drama, sports, music and art than state schools.
Class sizes are between five and thirteen pupils on average in a private school, whereas there can easily be 30 pupils per class in a state school. Many feel that the extra attention smaller classes afford private pupils improves their educational experience.
Many parents who send their children to private school feel that they benefit from having more control over their child's education. Without the restriction of catchment areas, parents can effectively pick and choose schools more. And if they feel that one school isn't up to standard they can take their money and move their child elsewhere.
There is also a wider range of options in terms of types of private school, for example the options of singe sex schools and boarding schools.
University Entrance
Many parents send their children to private schools in the belief that this will better equip them to gain entry to a top university later on. It's true that at universities such as Oxford and Cambridge, the majority of students do come from private schools.
However, parents should note that the government is increasingly promoting widening participation in higher education, and universities are encouraged to admit more students from state schools. While it's not a disadvantage to come from a private school background when applying for university, some would argue it is no longer a particular advantage either.
Researching Schools
At the end of the day all private schools, like all state schools, are different and need to be judged on an individual basis. The best approach is to research the schools in your area and visit them if you can. If you are still undecided it is worth visiting state and private schools to get a balanced view.
You can also research independent assessments of both independent and private schools to help you make your decision. Ofsted provides up-to-date inspection reports on schools in the state sector, and the Independent Schools Council Information Service will give you for information on private schools.
You might also like...
I have a 10 year old in a school that is out of my catchment area, his sister who is due to start school in 2013 september and her brother going into secondary I have come up against a problem that admissions say is not good enough criteria for an oversubscribed school. I desperately need some advice as my daughter has medical conditions that doesnt fall into social/medical reasoning. Both schools are within walking distance of one another and all medical and family are around each child. The only problem is I live 10 miles away. To be able to have both children close to one another it would mean private school together. I just cannot afford this so what can i do? who do i approach? what forms do I fill in. Im in complete panic as Ive tried everything from day dot of submitting preferred school and now i'm being told both may not be able to go to the school. I have been told to put a late application in which i can only see would put us to the bottom of a waiting list which we were at the top in 2012.
linny02
- 23-Feb-13 @ 10:24 AM