Cutting the Cost of School Uniforms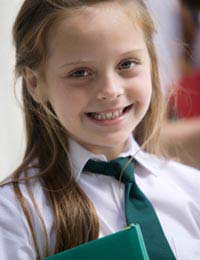 School uniforms can prove costly. Many schools insist that all pupils are kitted out with a whole wardrobe full of regulation items, from blazers, shirts, skirts and trousers to accessories such as P.E. socks and school ties. For many families, the price of a full school uniform can be difficult to meet. Luckily, though, there are several ways in which parents can cut the cost of school uniforms. With a little extra effort, you can save significant sums whilst ensuring that your kids still look the part.
Visit Uniform Exchange Events
Many schools or parent committees hold uniform exchange events a few weeks before the start of the school term. Parents donate items of uniform that kids have outgrown or no longer have a use for. Keep an eye on newsletters, school emails and school websites for details of uniform exchanges. If your child's school does not currently hold such events, be sure to get in touch with the head teacher to suggest it.
Visit Local Car Boot Sales, Jumble Sales and Charity Shops
Local charity shops, jumble sales and car boot sales can be ideal for picking up items of uniform at unbeatable prices. Keep an eye out throughout the year but take extra care to visit shops and sales at the end of term, when parents are most likely to have a clear out of unwanted items.
Make the Most of Hand me Downs
If you are friends with parents who have children older or bigger than yours, they may well offer you hand me downs of their kids' old school uniforms. Consider approaching friends and asking to buy old school uniforms from them at a small price, or ask to take them in exchange for a helpful favour.
Take a Trip to the Supermarket
Some of the lowest priced school uniform items are to be found at the supermarket. Large, out of town supermarkets are the best ones to try. Pick up cheap shirts and buy socks in bulk. Sewing a school badge onto a bargain blazer will be cheaper than buying a finished blazer from a school outfitters. Be sure to choose items carefully, though, to avoid costly mistakes and potential embarrassment. For example, check uniform regulations to ensure that the style of skirt sold in the local supermarket complies with school guidelines. Take care to pick items in the correct colours, too. A blue blazer won't go down well if the school insist upon navy.
Buy Wisely
There are a number of small tricks that can save you money and time when it comes to buying uniforms for your children. Blazers and coats are usually the most expensive investments. Buy these one size larger than necessary; proving the fit doesn't look unusual. In this way, these more costly pieces will see your children through one or two more years of school than they otherwise might. Shirts, too, can be bought a size or two up. Bleach these every few months to keep them looking fresh and white.
With a little forward thinking and a touch extra effort, it is possible to meet your child's school's uniform regulations and save money. Such thrifty tactics are particularly important during tough economic times, when every penny counts and the need to 'make and mend' increases.
You might also like...