Funding Postgraduate Study in the United States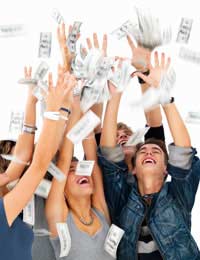 Many students dream of embarking on postgraduate study in the United States. The opportunity comes at a price, however. If you are keen to further your studies in the US, you will need to ensure that you have the money to take up an offer from an American institution. As well as course fees and living costs, you will also need to factor in the cost of travel to and from the United States and the price of private health insurance. If full self-funding is not an option, be sure to investigate fully other funding opportunities. Take the time to find out what kinds of aid your institution offers and to investigate awards offered by independent organisations too.
Funding and financial aid provided by universities
Approximately one in three foreign graduates studying in the US receives some sort of funding from the university they attend. This funding can take the form of scholarships for academic excellence. These are incredibly competitive and are most commonly won by students working on dissertations.
Others take on teaching or research responsibilities within their department, in the form of assistantships. If you are likely to be relying on securing an assistantship, it is important to remember that the allocation of studentships usually occurs annually, so you are unlikely to be able to be sure of having full, guaranteed funding for a course that lasts several years. It is also important to remember that, at many US universities, deadlines for scholarship and assistantship applications fall before deadlines for course applications. You should also note that the time commitment associated with funding your study via an assistantship may mean that your course will take longer to complete.
Opportunities offered by independent organisations
There are many US charities, trusts and organisations that offer postgraduate funding to UK students keen to study in the US. Each body sets its own application requirements. Their criteria might focus on your country of origin, your subject of study or your destination institution. The Fulbright Award is an example of a scholarship offered in the US by an independent organisation, in this case the Fulbright Commission. These are available to UK residents who display impressive leadership skills. Another example is the Thouron Award, available to UK graduates keen to study at the University of Pennsylvania. The P.E.O. International Peace Scholarship is open to women students and awarded by the PEO studentship. There are many other independent scholarships for which UK students are eligible.
Finally, it is important to be aware that, in order to receive a student visa from the US embassy, you will need to provide proof that you have funding for at least your first year of postgraduate study. If you are unable to provide proof of funding, you may need to defer your place at your US institution whilst you research funding opportunities further.
Studying in the United States is expensive, but there are plenty of funding options out there. Be sure to research the possibilities fully, whether you look for funding from your US university or seek support from an independent organisation.
You might also like...
HI SIR.I would like to do MBA but i do not have money.Please can you help me?
COCO
- 26-Jan-18 @ 9:10 AM
wisdom - Your Question:
Hello; I am a Ugandan aged 25 yrs , seeking your help. I have applied to purse my MSc in physics in August 2016 at Makerere university. but I don't have enough funds for my study. I have longed to, ever since I graduated from university in 2014. but I have not been in position to raise the tuition; so I couldn't proceed with my a education. I graduated with 2:1 in my undergraduate with a CG-PA of 4.04/5. any help rendered to me will be highly appreciated. thank you
---
Our Response:
Unfortunately, we can't answer your question. You would have to approach the university directly in order to see if it has any bursaries and/or scholarships attached to the school.
FundingEducation
- 3-May-16 @ 10:24 AM
Hello; i ama Ugandan aged 25 yrs , seeking your help . i have applied to purse my MScin physics in August 2016 at Makerere university . but i don't have enough funds for my study . i have longed to, ever since i graduated from university in 2014 . but i have not been in position to raise the tuition; so i couldn't proceed with my a education . i graduated with 2:1 in my undergraduate with a CG-PA of 4.04/5. any help rendered to me will be highly appreciated . thank you
wisdom
- 2-May-16 @ 10:10 AM
hi, madam i want to study post graduate but i dont havemoneyplease help me
joyce
- 29-Sep-14 @ 12:36 PM
hi sir i have a request for i need complete myeducation but i have didnt money i wanna study to complete with the united state or uk so plz help me
asadshah
- 24-Sep-12 @ 9:15 PM