Further Education Through Apprenticeships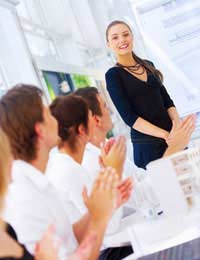 Apprenticeships are a useful but often underestimated type of training. In the past, apprenticeships were seen as one of very few routes into certain industries. They have since been somewhat forgotten, but today they are coming back into vogue.
Apprenticeships are a form of on-the-job training – meaning that you learn while you are working. But they also provide you with the opportunity to study for a formal qualification, the like of which you might also achieve through a conventional further education course. Apprenticeships are therefore also a great alternative for people who want to study for a qualification, but do not necessarily want to do it within the confines of a college.
What is an Apprenticeship?
An apprenticeship allows you to gain invaluable experience about a profession, while actually working on the job. At the same time, you will be get paid – and you can work towards a formal qualification as well.
In contrast with conventional, classroom-based forms of education, apprenticeships are mainly carried out on the job. Although you will have to be in a classroom at some points during your apprenticeship, the majority of your time will be spent doing practical work.
Apprentices are counted as employees just like any other. This means that you enjoy the same rights – including the National Minimum Wage, protection from unfair dismissal, and so on.
What Sort of Qualification do I get?
The qualification you receive will depend on the sort of apprenticeship you do. There is a range of different apprenticeships available, and the type you choose will broadly depend on the industry in which you are working and the level at which you are entering.
Apprenticeships are available at three levels. Intermediate Level Apprenticeships provide a qualification such as an NVQ Level 2 or equivalent. They may also include a BTEC or equivalent. In an Advanced Level Apprenticeship you work towards an NVQ Level 3 or equivalent. Again, you may also work towards a BTEC or similar qualification. Finally, in a Higher Apprenticeship you will work towards an NVQ Level 4 or equivalent. You may also work towards a Foundation Degree or similar qualification.
In all apprenticeships, regardless of level, you will work towards a knowledge-based qualification and a work-based qualification. At Intermediate and Advanced level you will also gain transferrable Key Skills.
Are the Qualifications Recognised Elsewhere?
Yes. The knowledge-based and work-based qualifications that you receive as a result of your apprenticeship will be recognised by other institutions and employers. NVQs are amongst the most widely recognised of qualifications, and they will stand you in good stead in whatever industry you choose. The work-based qualification, meanwhile, will help you to progress in the industry in which you train. Indeed, employers often favour job applicants who have work-based qualifications of this sort, because it suggests that the applicant will have the specific skills that the employer requires.
What if I Want to go into Higher Education?
Some apprentices choose to enter higher education after having completed their apprenticeship. This is relatively common, and there are plenty of ways in which you can do this.
As you receive a widely recognised qualification at the end of your apprenticeship training, you may be able to use this to begin a higher education course. This is particularly common in the case of Higher Apprenticeships, during which you might be working towards a Foundation Degree. This can often be used as a stepping stone towards a full-blown undergraduate degree.
Shouldn't I Just go to College?
This very much depends on your individual circumstances. College is not for everyone. Many people prefer the vocational learning environment that an apprenticeship provides, and value the fact that you can learn on the job. Similarly, many employers prefer potential employees who have on-the-job experience.
If, however, you want to go into an industry that demands a higher level of knowledge-based education, then college may well be the right choice. You should speak to your local Connexions or careers advisor for more information.
You might also like...