Budget Educational Opportunities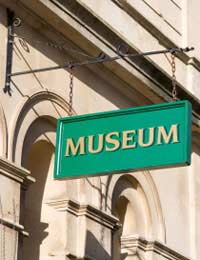 University tuition fees are costly. As such, some may feel financially unable to embark upon a higher education programme. Learning need not always take place within the walls of a university, however. Increasingly, more budget or even free educational opportunities are becoming available. Whether you're a university student looking to expand your body of knowledge on the cheap, or a student in the school of life keen to be inspired and challenged intellectually, there are a variety of learning opportunities to be found in your community, at your local university and online.
Out and About
It is widely known that many museums and galleries open their doors for free to members of the public. Some, however, charge relatively high entrance fees. Such venues should not be dismissed, however. Take a look at the institution's websites and keep an eye out for offers. Many galleries open for free on just one or two days of the week, or at certain off-peak hours of the day. Museums and galleries near you are also likely to be holding workshops, lectures, debates and guided tours. Many of these will be affordably priced or free of charge. Sign up to the mailing lists of your favourite galleries to receive offers, discounts and invitations.
The majority of theatres, too, are keen to make their performances financially accessible, particularly to the young. Arts Council England recently launched their A Night Less Ordinary scheme, which offers under 26 year olds free or heavily discounted admission to play performances. With more than 200 venues participating throughout England, you are sure to find one near to you. Tickets go quickly, so, again, it is important to sign up to theatre's mailing lists so that you can act quickly when tickets are released. For those over 26, the theatre need not be off limits. Stand-by tickets can be found at low prices by those with the flexibility to buy on the day of the performance.
Your local libraries and bookshops can also be a useful source of cerebral stimulus. Keep a close eye on their events calendars and look out for readings and discussions with your favourite authors.Public lectures are also worth looking out for. These might take place at a university, a museum or a public building such as a town hall. Often scheduled to coincide with people's working lunch hours, these are sometimes termed 'brown bags', so called because you can take along your sandwiches.
At University
If you happen to be a university student but are looking for something extra, your university is likely to prove a great resource for additional stimulation. Non-compulsory lectures and seminars, as well as concerts and performances can complement your chosen course or give you something completely different to consider. At the start of the academic year, be sure to sign up to clubs and societies that intrigue you and their leaders will keep you in the loop regarding events.
Check your university email account regularly for news of conferences and symposiums you may be eligible to attend. These often take place during the university holidays and offer a fantastic opportunity to learn from academic professionals and to see how they present their ideas.
Getting to know a few members of teaching staff is always a good idea. You may be able to help out at conferences they are organising or you may even be able to assist with their research.
Online
The internet holds a multitude of educational opportunities at the flick of a switch. Search for online or email courses that interest you. Many of these are free but be sure to conduct a little research to ascertain their reputability, or you may fall prey to spam and scams.
Institutions such as the The Open University (OU) and Oxford Online offer distance learning courses taught by professional academics via forums, email and materials received in the post. These are almost always cheaper than a standard university course.Quality, well regulated forums can also ignite the brain, offering the opportunity for considered debate.
With so many opportunities available, it can be difficult to know where to start. As such, a good tip is to keep a personal events diary. As soon as you receive an email detailing a worthwhile event, be sure to RSVP (if necessary), and note the event in your diary. When you have one or two interesting events to attend in the coming week, you are sure to feel stimulated and in charge of your own continued education.
You might also like...