Making the Most of Student Offers and Discounts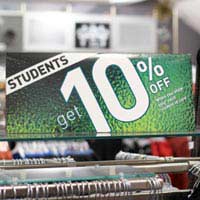 In student towns and cities, student offers and promotional discounts abound. But when is a good deal not a good deal? How can you ensure that all offers come your way? As a student, there are plenty of savings to be made. Many of these arise as a result of companies targeting students as consumers but, crucially, your flexible, sociable lifestyle can also be of financial benefit. We show you how to make the most of the savings available to you.
NUS Discounts
As a student and NUS member, you will receive a 10% discount at a variety of outlets, both online and on the high street. So long as you remember your student ID card, you can secure savings on items as various as stationary, shoes and magazine subscriptions. In order to qualify for a discount, your card must have an expiry date detailed on it. If you are keen to make savings online, you will to purchase an NUS Extra card. This will give you discounts at a range of extra stores, as well as providing you with a code that can be entered at online checkouts.
Recreation and Discounts
Student drink offers can be tempting but be sure to plan your spending and drinking in advance. If you drink significantly more because pints and wine are cheap, are you really making a saving?
If you enjoy regularly reading broadsheet newspapers, as a student you're in luck. Newspapers are usually available from student shops at a fraction of the recommended retail price.
When it comes to clothing and accessories, by all means, make the most of 10% discounts on the high street. As a student with flexible hours, however, do also consider trawling charity shops and vintage stores, as well as surfing Ebay. Unique, good quality bargains are sure to be cheaper than their high street counterparts.
Cheaper Travel For Students
As a student or a young person, there are plenty of savings available to you when it comes to travel. If you are eligible, be sure to apply for a 16-25 Railcard. These are available to all those between the ages of 16 and 25 and to all full time students. They can be purchased for £26 from your local train station and knock a third off the cost of rail journeys across Britain. Be sure to read the small print, though. For example, some discounts are not available during peak hours. If you regularly travel in London, take care to register your 16-25 Railcard with your Oyster card at a tube station help desk to save a third on capped off-peak travel.
London students should also consider applying for a student Oyster card. These cost £5 and allow you to purchase discount weekly and monthly travel passes. Contact the student services department at your university to find out how to buy one as your university will need to stamp your application form to prove that you are in full time education. Assess the possible savings, though. If you take the tube or bus just five or six times a week or have a few travel-free days from Monday to Sunday, even discounted travel passes may not be cost effective for you. Be sure to do the sums before committing.
As a student with a flexible lifestyle, living in a city, travelling on discounted coach services such as Megabus may be for you. If you have the freedom to book several weeks in advance, seats can be secured for just a couple of pounds. Booking train journeys in advance also allows you to travel home or visit friends affordably.
With plenty of friends, contacts and acquaintances, holidays and recreational travel can prove cheap. Share lifts to festivals, book group travel and sleep on the floor of friends with homes in exotic locations. With a little lateral thinking, savings can be found.
With a little forethought, it is possible to make the most of the savings and discounts available to you as a student. Always be sure to think carefully about a given offer, however. Will it really save you money? Can you find a better and cheaper product or service elsewhere? If you've time to spare, can you use it to your financial advantage? Become spending savvy today and your bank balance will thank you.
You might also like...