Making Good Value School Lunches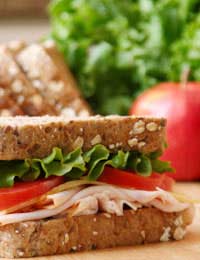 Home made lunches can be cheaper than school meals and will certainly be cheaper than lunch from a cafe or restaurant. Making your child a lunch at home will also ensure that you know what he or she is eating and can help to make their lunchtime meal nutritious and healthy.
While the variety of lunchbox items in the supermarkets can be enticing - they will also push up the cost and may not be as healthy as they look. It's a good idea to buy in bulk and plan meals in advance so there are no leftovers. This article looks at other tips to help you save money when making your child's lunches.
Avoid Prepared Foods
Things like little bags of chopped up cucumbers, carrots or peppers are more expensive if you buy them ready prepared from stores. It's easy to make your own and will be a lot cheaper if you also buy the veg in loose rather than already packaged.
So buy the veg yourself, peel them and, cut them into pieces and pop them in a little bag (which you can ask your child to bring home to avoid having to buy more very often). That's true for chocolate and biscuits too - if you want your kids to have one at lunchtime, buy a big 'fun pack' and give them one small item a day rather than having him or her regularly buying their own, at a premium.
Making Sandwiches
Ask your child about his of her favourite sandwich and buy the fillings in advance, in bulk. For example you can buy a big slab of cheese, or a large pot of peanut butter, and can even freeze some sandwich toppings, so you can make a load on a Sunday night and they will last all week. Also note that grilling your own chicken breasts and slicing them up will be cheaper than buying packaged chicken slices - the same is true for other meats. Try to maintain some variety to avoid your child getting bored.
Refill bottles
Buy a sports drink container and fill it up with fruit juice and an ice cube every day. That way you will avoid spending money on fruit juice boxes or fizzy drinks, and the ice cube will also dilute the drink and make it better for your kids' teeth. Alternatively, you can fill old water bottles with water from the tap and will save money by avoiding expensive mineral water - or find out if your child's school has water fountains available for his or her to use.
Use Leftovers
Filling a little plastic box with leftovers from dinner can be tastier than they sound. Dinner leftovers that make a great lunch box filler include a chilled risotto, salad with added chicken or tuna, pasta with sauce (turns into pasta salad), stir fry (add more veg for a noodle salad) and leftover potatoes (add some mayo and sweetcorn for a healthy salad), These can make an exciting change from sandwiches and will also be another way to both save money and boost nutritional qualities. Older children might enjoy soup from a thermos flask, but ensure these are allowed by schools first.
You might also like...