Flexible Employment Opportunities for Busy Students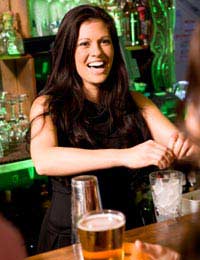 As a student with a sporadic schedule, working a 9 to 5 day is unlikely to fit your lifestyle. There are plenty of flexible employment opportunities available to students, however. Indeed, many of these allow you to cash in on your skills and passions. You might even find yourself having fun whilst adding to your funds.
Bars, Clubs, Pubs, Restaurants and Catering
Working behind the bar or as a waiter or waitress is a conventional employment route for students looking for flexible working hours. When seeking work and handing out your CV, however, it pays to be selective. Keep your ear to the ground for knowledge of where to apply for the best tips, for fair pay and good working conditions. Whilst work may be less frequent, consider joining the waiting team of a local weddings and events catering company. Pay is usually relatively good and servers can quickly rise within the ranks and achieve a higher hourly rate with experience. In time, you may even find yourself co-ordinating weekend events, managing a team and adding substantial figures to your funds.
Making Money Online with Ebay and Etsy
Whilst you might traditionally think of sites such as Ebay as a helpful way to shift unwanted presents, childhood toys, old books, DVDs and games whilst making a bit of cash, auction sites can also help you to turn your passion into profit. If you're a student short on time and funds, Ebay might just be your new best friend. Whether you've got a flair for restoring classic bikes or an eye for spotting vintage and designer pieces in second hand and charity shops, setting up shop on Ebay could be for you. Be sure to focus on your customer service, keeping customers informed, describing items carefully and honestly, providing a range of photographs, packaging items professionally and delivering goods promptly using the postage method you stated on the auction page. All this will benefit your overall feedback and ensure that shoppers keep coming back for more. A good tip is to time auctions to end on Sunday and Monday nights when potential customers are at home and surfing the web.
If you have artistic talent or a crafty hobby, consider selling your wares on Etsy. Goods on offer are diverse, from handmade paper notebooks to chilli chocolate cookies. Some of the most successful sellers post example pictures of their creations and work to order, creating personalised items for customers. If you're a fan of the new knitting trend then allow shoppers to choose the colours of their own scarf, for example.
Making money online allows you to be your own boss and choose your own hours. Get out what you put in; working quickly and productively will secure you more cash per hour.
The Student Social Scene
If you are outgoing and know hundreds of other students at your university, consider turning your contacts into cash by selling tickets for local club nights. Approach nearby clubs and promoters to offer your services. Don't be shy about haggling for a better rate per ticket sold. Employers are likely to value your confidence and persistence. This can be a particularly profitable employment opportunity for those living in student halls, where friends and acquaintances are just a stone's throw away.
Tutoring
If you are a good communicator and have a passion for your subject, think about cashing in by way of passing on your wisdom. Tutoring local A Level students can be rewarding, as well as highly paid. Advertise your services by way of mouth, as well as by posting leaflets through doors and pinning up posters. Sites such as Craigslist and Gumtree may also prove useful. Safety should be at the forefront of your mind, however. Initially, agree to meet your prospective student and their parents on mutual territory such as at a local café.
With a little lateral thinking, flexible employment opportunities available to you are sure to become apparent. Think carefully about your skills and passions and try to find something that you'll enjoy and that will look good on your CV for years to come. Indeed, future employers are likely to be impressed by your initiative and ability to juggle both study and work.
You might also like...