How I Funded My Master's Degree: A Case Study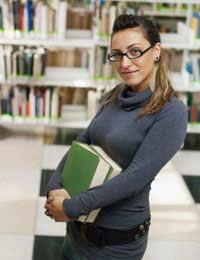 Many graduates are keen to go on to further study but the cost of a postgraduate degree can pose problems. Chloe French finished her one year MA in Medieval Literature in Spring 2010. We caught up with her to learn more about how she funded her year of postgraduate study.
Q. Did you receive university or Research Council funding for your course fees and living expenses?
A. I applied for full funding through the Arts and Humanities Research Council but, unfortunately, I was not selected for support. The application process was definitely worthwhile though, as it helped me to focus my academic interests and develop a detailed plan for my master's dissertation. I did, however, receive some funding from the university which meant that I only had to pay half of my tuition fee bill.
Q. Did you apply for any other funding awards?
A. I applied for all the funding opportunities out there! I'd definitely recommend doing that. After all, if you don't ask, you don't get! I received a £400 award towards my tuition fees through a women's prize run by the Arts and Humanities department at my university. Every little helps.
Q. How did you meet the rest of the course costs, as well as your living expenses?
A. I made ends meet through a combination of part time work, as well as a £7, 000 Career Development Loan from my bank. I wasn't keen to take out a loan at first but it was interest-free for the duration of my course, which put my mind at ease a little. I worked in the university library three days a week, as well as working as a student ambassador. I had worked full time for a year before I enrolled on the course, so I had some savings put by.
Q. Was it a struggle to fund your degree?
A. I was by no means well off during my master's year. I had very little money to spend on clothes and entertainment and I had to cut costs wherever possible. In retrospect, it might have been easier had I been living in a cheaper flat, as my rent payments really ate into my bank balance. I had a fantastic year, nonetheless. I was working hard, I felt inspired and I was surrounded by people who shared my interests.
Q. Do you think you'll go on to do a PhD?
A. Unless I was able to secure substantial funding, I would be financially unable to embark upon a PhD full time. I am looking at other options, though. I live in London now and there are a number of universities here that offer more affordable, part time PhD courses. I could work in the day and study in the evenings and at the weekends. I'm also looking into online study.
Q. Are you pleased to have done the MA?
A. Absolutely. It's definitely been worth it. Whenever I begin to resent the loan repayments, I just remember all the skills, experiences and enjoyment I gained over my year of postgraduate study. Plus, I'm definitely more employable now, so I do feel it was good value for money.
Chloe's story goes to show that you don't need to be rolling in riches to fund an MA. Investigate all the funding opportunities available to you and don't rule out the possibility of working during your period of study.
You might also like...