How I Looked After the Pennies Whilst Studying: Case Study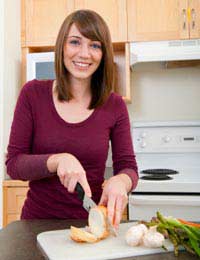 Like countless others, Sarah Evans faced financial difficulties during her years as a student. In an effort to make her student loan go further, she soon learnt to make savings on everyday expenses. Here, she tells us how she looked after the pennies.
Q. What Prompted Your Frugal Ways?
A. Before the start of my first term at university, I sat down and worked out my budget. I had no financial assistance from my parents, no additional loan and was set to become a student in the heart of London. I knew I'd need to watch my spending. I calculated exactly how much money I'd have left to spend each week, after rent and transport were taken care of.
Q. How Did You Save on Your Food Bill?
A. I shared food costs with my four housemates. Every two weeks we'd take a trip to a big, budget supermarket to stock up on items for our cupboards. We had a kitty in the kitchen draw which we used to buy things like fruit, vegetables, milk and bread. I ate meat very rarely, opting instead for cheaper sources of protein such as chickpeas, lentils, nuts and seeds. Two of my housemates were vegetarians and great cooks, so that worked out well! We ate delicious soups, cooked our own pizzas and made amazing stir fries.
Q. Tell Us About Your Budget Nights Out
A. My friends and I would always make the most of happy hours and made sure to turn up slightly early to clubs and bars to be sure of free entry. Student offers at the cinema and theatre cut our costs, too. My housemates and I would lend each other clothes for big nights out, meaning that there'd always be something new to wear without the worry of expensive shopping trips.
Q. Did You Budget When it Came to Travel?
A. I made sure to buy a student railcard so that I could buy discount tickets when I travelled home to visit my parents. I tried to figure out my plans a few weeks ahead and often got great deals on advance train bookings. In my first few weeks, I travelled around London using the buses and tubes. This proved worryingly expensive, so I bought a second hand bike and used that instead. I saved approximately twenty pounds a week that way.
Q. How Did You Save Money on Clothing?
A. Aside from sharing items with my housemates, I made the most of London's many vintage shops. I'd head to Brick Lane on my bike and scour the rails for interesting pieces.
Q. What About the Cost of University and Study Resources?
A. As an English student, I was worried that I'd have to spend a fortune on books each term. There were a few, key texts that I did have to invest in at full price. Other than that, though, I managed to pick books up cheaply by responding to adverts on our department's student notice boards. I also found some on eBay. I'd get less rare books from the library, taking care to look at my reading lists a few weeks in advance and request any books that I needed on the library's online ordering system.
Sarah picked up and developed her frugal habits as her student years progressed. Her story reveals the importance of being alert to saving opportunities in all areas of life. With a little imagination, you can dramatically improve the balance of your student account and limit money worries.
You might also like...