How I Funded My University Degree: A Case Study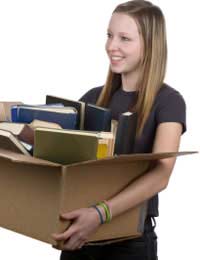 Saskia, 22, just graduated from the University of Cambridge with an Upper Second Class degree in Social and Political Science. She is now living and working in London as a researcher. Here she talks about how she juggled university course work with a need to get by financially, and discusses her own ways of staying solvent as a student, with plenty of tips for future undergraduates thrown in.
Planning Ahead
"When I found out I had a place at Cambridge, my first thought was, WOW, I was over the moon – and my second was, oh no, I'm going to have to turn this down, there's no way I can afford it. The reason was, I thought that Cambridge would have so much work that I'd have more difficulty juggling paid work with academic studies. Luckily, I discovered that planning ahead can really help out.
First, I contacted my local education authority and asked about available loans and grants. My family income level meant I was eligible (like everyone) for a full loan to cover my tuition fees, and a partial maintenance grant that is not repayable.
"Next, I contacted my university to find out about any extra sources of funding available. I spoke to the student finance officer who gave me lots of information about all the available bursaries on offer to students who would struggle to otherwise attend uni. Some were very specific - for students of particular subjects, or from one area, but three applied to me and I managed to successfully applied for one of these. This was a very relieving series of events, as it meant I could start uni with a chunk of money to fall back on if necessary.
Banking Details
"I put both the loan money and the grant into a high-interest savings account, and took out only a little into a current account for every day use. I did my banking online, to stay on top of how much I had and how much I owed. That way I could easily control my spending. I also asked for an overdraft on my student current account, not that I intended to use it, but just in case I did do so by mistake or out of necessity, that way I'd avoid paying excess fees.
Working Around Classes
"Just as I'd anticipated, the uni terms were extremely busy. I couldn't juggle a proper part-time job with regular hours, however I could fit in irregular work. So I helped out local families with babysitting now and then, did dog sitting, and tutored younger kids. It wasn't a huge money-making scheme but it all helped out.
Holiday Work
"Then, in the long summer holidays away from uni I capitalised on all of my earning potential. Every summer, I managed to get a job temping for big City firms, which was also good for my CV. I spent the holiday months living at home, to cut back on living costs. I saved all my money for use during the uni term, and that was a huge factor in helping me stay afloat financially – and even have a little extra to have some fun!"
You might also like...