Making Money as a Part Time Maths Tutor: A Case Study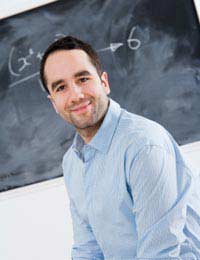 If you're a student in need of flexible employment, why not consider becoming a tutor? We caught up with Simon Keen to hear about his experience of working as a tutor whilst studying for a degree in Mathematics at Manchester University.
Q. Why did you decide to become a Mathematics tutor?
A. Maths has always been a passion of mine and has come somewhat easily to me. I remember explaining equations and concepts to classmates at school and helping them out with their homework when they got stuck. I'm a good communicator and, when I arrived at university, I decided to cash in on my skills and become a Maths tutor. I was struggling financially and I realised that I could earn good money for doing something I enjoy, whilst sharpening my own skills at the same time.
Q. How did you advertise your services?
A. I opted for the work of mouth route. Some family friends with children of A Level and GCSE age lived just outside Manchester, where I was studying. Initially, I tutored their children and then started to get work from their friends and friends of their friends. It all snowballed from there really. At one point, I was tutoring 7 pupils a week. I would consider advertising on Craigslist or Gumtree but it's important to take appropriate safety measures if you take your business online.
Q. How good was the pay?
A. I charged an hourly rate of £15, so I was doing well. I still needed to take my student loans, of course, but the money I was earning meant that I didn't need to use my overdraft facility. It also meant that I was able to enjoy myself during university holidays, visiting friends in other countries. My rate was flexible, though, like my work. For families where I tutored more than one child, I dropped the rate to £12.50. I also gave the odd free session to those who recommended me to other families and secured me more business. All these incentives really paid off and helped me to build a strong relationship with my customers.
Q. Where there any drawbacks to tutoring?
A. Most of my tutoring sessions took place at the weekends, as parents were keen for their kids not to be tutored after a tiring day of school and extra-curricular activities. I had to sacrifice a fair few games of five-a-side football on Sunday and Saturday mornings. Travelling to a number of my customers took a fair while, too. Bus fares were eating up my time and money so I bought a bike and that made everything must easier.
Q. Has being a Maths tutor benefited you in the long term?
A. Certainly. Having to advertise my services and work professionally has definitely been of benefit in business. I now work for a software sales firm and they asked me about my tutoring days in a fair bit of detail at my interview. They seemed impressed by my promotional strategies of offering lower rates to families who recommended me to friends.
If you're a budding entrepreneur like Simon, or even if you're just keen to teach others all about a subject you love, becoming a part-time tutor may be for you. In monetising your skills and passions and securing an impressive hourly rate, you are sure to enjoy your work and feel proud of it.
You might also like...