Cutting the Cost of School Books and Equipment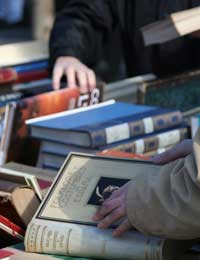 Not all schools ask parents to pay for textbooks or other school equipment, but most private schools will add some books to the end of term bill. State schools might need kids to share their books or other equipment so it can be advantageous to buy one or two items in order to help your child with their homework.
Of course, these costs all add up, so it's a good idea to consider how to find the cheapest options - often by buying from second-hand book shops, and speaking to former students. This article will help you to shave pounds off your child's book and equipment list.
Starting Early
You probably won't be the only parent looking to track down cheaper copies of particular reading books, textbooks, or other forms of equipment such as laboratory coats, art kits or sportswear. So it's a good idea to find out as early as possible which textbooks and resources you will need for your classes. For example, if your child receives a reading list at the start of term which shows he or she will be studying a particular Shakespeare text, then start hunting for it early - you'll be more likely to track down a cheap copy.
Ask Former Students
It can be very helpful if, early on in your child's education, you find an older student's family who might be able to sell or even give you their child's redundant materials. For example they will always be a few steps ahead in the classroom so will have any old textbooks or books that your child may need next. You should check this, though, because curricula do change quite quickly so double check your child's requirements with his or her teacher before shelling out.
Visit Second Hand Bookshops
If there's a used bookstore near to your child's school, it will often have large quantities of school curriculum books, since other parents will usually drop them off if a child no longer shows an interest in the works. Second hand book shop owners are often keen to help customers to source particular books too, so it's a good idea to ask them if a particular work is available even if you can't see it. If you go into their store with a list of all the books you require they'll be keen to help out and might provide a bulk discount.
Use the Internet
Sites like Abebooks, Amazon Marketplace and other used book web sites will often be able to provide you with cheaper copies of books - this is true too of other resources: art kits and so on might be more cheaply available from marketplace sites like Ebay. But you will have to be patient - don't expect to find all your books and resources quickly or in one place, since the nature of hunting down cheap deals is that it can take longer.
Look Online for Copies
Sometimes popular literary books that have come out of copyright will be available for free online. You may be able to find a downloaded version of the textbook your child needs available on the Internet. Check that this is a legal copy - illegal versions may also be available so do avoid these. Your child may only need to use the copy online if it is for a one-off check of information, for example, or if it is not too long you may want to print it off. Your child will probably want a hard copy or physical book if they need to use it on a more regular basis, however - so weigh up the relative cost of printing off an epic work - it might well be cheaper to buy it!
You might also like...