Finding Charitable Loans and Grants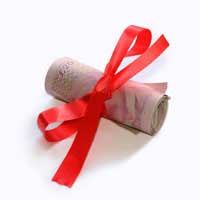 Grants and other charitable funds are unlikely to offer enough cash to cover the entire cost of your child's education, or further education at university. However, educational charities, trusts and other similar organisations may well be able to offer you or your child help to access extra money, that may alleviate financial strain.
These kinds of charities and trusts tend to have very specific terms that you have to fulfil to qualify for funding. They may, for example, target students or pupils attending certain schools, universities or colleges, following a particular course of study, within a certain age frame, from a specific area of the UK (or elsewhere in the world), or from a specific background, for example parents working in a certain industry.
How Much Can I Expect?
Most small charities, such as church organisations or industry groups, offer payments of between £300 - £500 for individual children or students. It is unlikely to be much higher than this, although obviously there will be exceptional circumstances for some children that might receive more money. Note that educational charities will normally offer families single, one off payments rather than a regular pay out every term or year, for example.
Charities often like to see or hear of a return on their investment, and might for example prefer to sponsor or buy a particular purchase or course. Some will specialise in helping students to receive some child care fees back, for example, or might buy a school pupil a laptop or another aid to an education being held back by a learning disability. These kinds of appeals by families or students will normally be determined on a case-by-case basis.
Circumstances For Receiving Funds
Bursaries and charitable funds are normally not distributed according to merit or academic ability, but by financial need. So they are more likely to be offered to families and students who would not otherwise be able to afford to attend a certain school or course, or for those who are suffering from illness and whose need for assistance results from that sickness or other unforeseen circumstances, Note that for university-level study, the majority of charities only offer help to first-time students, rather than those embarking on a second degree or postgraduate education.
Funding Charities and Educational Trusts
Your first step should be your local public library and educational institution. Many universities will list previously successful sources of funding. Check out the following books, too: The Educational Grants Directory, Directory of Social Change (DSC); A Guide to Grants for Individuals in Need, DSC; Directory of Grant Making Trusts, DSC. Other potentially helpful organisations include:
Educational Grants Advisory ServiceInternational Awards 2001+, published by the Association of Commonwealth Universities ACU, and available in most university libraries or British Council Offices. Directory of Social ChangeCharities Digest, Waterlow's Legal PublishingScholarships for Study in the USA and Canada, Peterson's
You might also like...
My name is Ethan and I'm looking for help with paying my tuition fee. I have always dreamt of becoming an Aerospace Engineer and to conduct research to benefit modern technologies. However, without help to pay my tuition, I won't be able to do so.
Ethan
- 26-Oct-20 @ 11:53 PM
I read MSc Global Criminology in 2017 and was sick afterwards ( had sciatica) and could not pay the the tuition fee completed, now the university of London Birkbeck has sent STA International after me for the Ballance of £5950 and I am really struggling at the moment so I will need help please. I also need my certificate so I can look for a better job, but without settling this bill, this will be impossible.
Olu
- 20-Oct-20 @ 11:31 AM
My name is betty. I was refused student finance on the basis that am not eligible.Anything little would help me to achieve my dream of becoming a mental health nurse as am now left with the option of self funding which I can't afford. Thank you.
Lizz
- 23-Jun-20 @ 11:45 AM
Hello I was refused student finance on the basis that am not eligible. Anything little would help me in achieving my dream of becoming a mental health nurse as Am now left with the only option of self funding my course.Thank you
Lizz
- 23-Jun-20 @ 11:41 AM
I'm from NAMIBIA.I'm looking for asponsorto pay for my 3 yearsstudy fees
willem
- 15-May-20 @ 1:35 PM
Am a third year student at the University of Dar es salaam requesting for financialhelp to complete my studies.
KABS
- 19-Feb-20 @ 4:07 PM
I am desperate for some help for my university fees. I am not eligible for my student loan. I am the last year of Biopharmaceutical Science Course. I can not have a proper job because a have a baby and also from what i amearning i have to pay his nursery.
Lidia
- 6-Jan-20 @ 12:19 AM
I am desperately in need of your help .i want to go back to school but don't have the help to continue my education, am not qualify for a student loan,and i don't have the money to pay for my school fee.am just looking for someone to sponsor me so that i can finish my schooling in nursing.
Nads
- 4-Nov-19 @ 4:33 AM
year MSc program in Data Science at Lancaster University commencing on 1 October 2019 but I don't have sufficient funds to self-sponsor tuition and maintenance fees. I have PhD in Statistics (2019), MSc in Biostatistics (2012), BSc in Mathematical Sciences (2007), and Diploma in Education (2001). I need to pursue another MSc program because I want to migrate from traditional Statistician to Data Scientist so that I should be able to contribute more in developing further my home country, continent, and entire world. Therefore, I am actively and urgently looking for any form of financial sponsorship.
Paweni
- 12-Sep-19 @ 7:12 PM
I'm from Zambia. I need some financial help to go back to university and continue my bachelors of science in Computer Science at DMI St Eugene University, Zambia. I dropped out after first semester exams because I wouldn't continue because of financial challenges. Tuition fees is $750 per semester. Any help for my academic will be highly appreciated.
J. J
- 28-Aug-19 @ 12:27 PM
Hi, My name is Joseph Munthali from Zambia. I need some financial help to go back to university and continue my bachelors of science in Computer Science at DMI St Eugene University, Zambia. I dropped out after first semester exams because I wouldn't continue because of financial challenges. Tuition fees is $750 per semester. Any help for my academic will be highly appreciated.
Mexie
- 28-Aug-19 @ 12:25 PM
I would like to do GCSE at a private independent colleg but the fees is 15.000 pound a your i need some help to cover this amount is the any chance to get some help ples
San
- 18-Jun-19 @ 9:29 PM
Hello My name is Nesrin Al Ali from Syria I have Master's degree in Biology And i have gotten an offer letter to study PhD at University of Leicester in the UK But, unfortunately i do not have the funding I need 40,000 pounds to commence my study Can you help me please? I am looking forward to hearing from you Best regards Nesrin
Nesrin
- 27-Apr-19 @ 12:11 AM
i am desperately in need of your help. i am a student nurse and i have just been informed that i have had admission to study masters in taught midwifery and does not have cash to pay for accommodation, tuition etc.I am look for a sponsor for assistance. Thank you.
Sarpong
- 12-Apr-19 @ 11:01 PM
Sir, I have required 5lac indian rupee so as to i can provide college fee of my son who is now studying business administration and MBA. I can not afford expenses for complete his study. If possible please help. Regards S Banerjee
Subha
- 26-Aug-18 @ 12:44 PM
Hello Sabaidee I am Chaleeva I need to continue to study at china for master degree but now I do not have enough for it because I have recently lost my father who had been suffering with mental illness Now I would like to study to get a goodjob for my future so can you sport me to my stydies. I am waiting to recieved from you soon I hope you can help to sport my studies. Thank you very much best regarded Chaleeva
Toulee
- 9-Feb-18 @ 5:48 AM
i started a nursingdegree this September. i was of the understanding that student finance would pau for my fees buti have just bren informed that i dont qualify for student loan. i would like to continue with my education but i cant affordto pay for fees. i am so desparate and i am at a breaking poit at present. i am so heartbrokenand yhe thought of quiting is killing me. kindly please help
schoolar
- 22-Dec-17 @ 10:22 PM
i am desparately in need of ypur help. i am a student nurseand i have just been informedi dont qualify for student finance loan. i would like to continue with my education but now i dont have any moneyto pay for my school fee. i am deparatly look for a sponsor.please hlep me . i am at a breakinf pointand i am so heartbroken.i dont wantto quitmy education
schoolar
- 22-Dec-17 @ 10:16 PM
I am a student please assist me with a job or student loan so that I may continue with my studies. I am desperate..
coolgirl
- 14-Mar-17 @ 11:39 AM
Hi i would like 2continue with my studies but i dont have money to pay for my tutition.if b can help me a job.
Habiba abdi Hussein
- 13-Aug-16 @ 1:05 PM
hi,am 22 years a 2nd year student in one of universities in Kenya hardworking in education but I come from a humble back ground where my parents are not able to pay my university fee I pursued my secondary education though sponsorship which was made for secondary education alone ,am now standing a danger of terminating my education because of lack of finance to cater for my fees and rent is there any one willing to sponser me for the remaining two years I will really appreciate thanks.
Iis there any kind of funding or loan I i can get I have started work and need all new tools as my old ones aren't up to the job any more and really want to keep this job cheers
marky
- 1-Jul-14 @ 12:44 AM
Hi my name is Michaela I am a South African looking for sponsorship for further studies.I successfully matriculated with a National Senior Certificate which qualifies for a bachelors degree.I have applied to a university and was accepted the only thing standing in my way now is finances.I am a late child and both my parents are pensioners they cannot pay my studies and cannot stand as surety for me to take out a student loan.If anyone can assist me with this in any wayit will be much appreciated.Thank You.
Mickey
- 20-Dec-13 @ 12:58 PM
my son has aspergers syndrome and is really gifted when it comes to playing a piano/keyboard i was wondering if theres a charity that can help me fund music lessons for him as i feel he needs some guidence other than what hes taught himself i am on benefits
apple
- 25-Nov-12 @ 7:31 PM
Hiya, Im 22 and have recently lost my mother who had been suffering with mental illness since I was 10 , I also lost my father in 2001 to cancer. So I am now orphaned and had to leave my home due to a violent brother taking over my mothers house, this is now going through court and will take a long time to resolve.Since the age of 10 I have no support with my educational decisions and feel completly let down by the 'local systems'.I have more than 7 B- C'S in Gcses and took a business course at level three but I dont have enough points to get into university on the course that I really want to do, Midwifery.I applied for university this year and was rejected from all of them as I have no nursing experiance.I went to careers advisers and they spoke to the nursing and midwifery council eho said Id need a nvq or an Access to learning course.I have found these courses availible but I cant afford them as Im on a low wage and having to pay for an expensive room in a shared house due to my recent change in circumstances.Is there any funding availible ? As I cant get to my career goals as I have no savings or parents to help me. My bank wont give me a loan and there is no where else to turn? What can I do ? Thanks for any advice.
medusa89
- 27-Jul-12 @ 9:51 AM
hi, i have a friend at university who has no family income or support (she is an orphan). she has a student loan, but still does not have enough to cover daily expenses such as food, living costs etc. what type of support is there that she can look into?
irfy
- 3-Jul-12 @ 3:05 PM
Please help me with a job so as to further my studies
Estherlouw
- 4-Jun-12 @ 4:26 PM