Three Budget Student Meals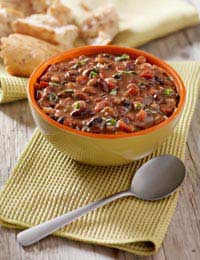 Frozen pizza, beans on toast and spaghetti bolognaise all have the reputation of being firm favourites amongst students. Whilst being cheap, tasty and quick to make, these stereotypical dishes are far from original or exciting. Being a student on a tight budget doesn't mean missing out on creating inventive and exciting dishes. Here are three examples of affordable and simple dishes that are sure to wow your friends.
Cashew and Vegetable Stir Fry
Shop bought sauces can be expensive and are often full of salt, sugar, flavouring and additives, with little nutritional value. If you're a fan of Japanese food, be sure to invest in a bottle of soy sauce, a bottle of toasted sesame oil and some chilli flakes. Together, these three ingredients shouldn't cost more than four pounds and will add authentic flavour to your stir fries. What's more, they'll last for months.To make a delicious stir fry for four, first heat a little olive oil in a wok with a tiny pinch of chilli flakes. Add two cloves of crushed garlic and one chopped red onion and stir for two to three minutes. Now, the choice is yours. Cooking up a stir fry is a tasty yet thrifty way to use up leftover vegetables. Aim to add around four different kinds of vegetables, of various colours. This will guarantee a nutritious and attractive dish. Chunky vegetables like broccoli and baby sweetcorn take around seven minutes to stir fry. Mushrooms, courgette, leek and carrot take around five minutes. Spinach and peas take about two minutes. With three minutes to go, boil a kettle and cook your noodles, according to pack instructions. When your vegetables are almost done, add a handful of cashew nuts and a tablespoon full of sesame seeds for protein, a few tablespoons full of soy sauce and a dash of toasted sesame oil and stir. Place a serving of noodles on each plate and top with the stir fry. Serve with jasmine green tea; a fun and thrifty alternative to soft drinks. Chopsticks can be found cheaply at Asian supermarkets or pound stores, use them for the full effect.
Carrot and Lentil Soup
This gently spicy recipe, ideal for a cold winter's day, is cheap and easy to make. Once you have the spices in your cupboard, this recipe should cost you no more than two pounds and makes a great meal for four. Alternatively, freeze it in individual portions and you'll always have a cheap and tasty standby lunch or dinner.In a saucepan, dry fry a teaspoon of cumin seeds and a pinch of chilli flakes, until the seeds begin to bounce. Throw 600g of washed, peeled and chopped carrots into a large pan. Add 140g of red lentils, the dry fried spices, a litre of hot vegetable stock and 150ml of milk. Bring to the boil and simmer for around 25 minutes. Allow to cool for five minutes, then whizz it up in a food processor or using a stick blender. Serve with wholemeal bread and a dollop of natural yogurt.
Berry and Apple Crumble
Tight finances should not spell the end of pudding or desserts. Crumbles are simple and delicious and the ingredients need not cost much. If they're in season, go blackberrying and pick up some free berries from the hedgerow. Otherwise, a bag of frozen summer or forest fruits works too. Preheat the oven to Gas Mark 5, or 190 degrees. Place 175g of berries in an oven proof dish and stir through four apples, peeled and chopped. If you've opted for fresh berries, add four tablespoons of water. Next, put 100g of flour, 60g of oats, a teaspoon of cinnamon and 75g of butter in a bowl. Rub together with your fingertips, until the mixture resembles bread crumbs. Stir through 55g of brown sugar and spoon the crumble mixture over the fruit. Cook for around 30 minutes, until the fruit is bubbling and the top is golden. Serve this fruity treat with ice cream, custard, cream or milk.
So there you have it – three tasty dishes that won't send you plunging into your student overdraft. If you share meals, split the cost of ingredients with your house or flat mates and take it in turn to cook, you'll soon be eating well and saving money.
You might also like...