A Student's Guide to Style on a Budget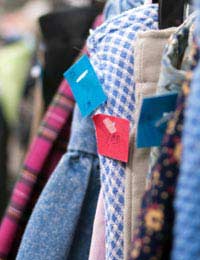 During the final years of school or whilst studying at Sixth Form College, a combination of part-time jobs and minimal living costs mean that many students have a sizeable disposable income that can be spent on going out and looking good. The story is somewhat different, however, once students arrive at university. The cost of rent, transport, food, utilities and tuition fees means that most students feel the pinch and have less to spend. So how can students with a passion for beauty, grooming or fashion achieve style on a budget?
Make the Most of Student Discounts
Firstly, it is important to make the most of the discounts available to you as a student. Be sure to apply for an NUS card and carry it with you when out and about. This card will secure you discounts at a variety of high street fashion stores, as well as a number of hairdressers and beauty salons. Be careful, though, that you don't simply end up spending more to compensate for any discounts you receive. Think saving, not spending.
Consider Secondhand Clothing
Vintage shops and secondhand boutiques are full of amazing clothes at affordable prices. Indeed, many items are of a higher quality than those found on the high street. Before purchasing though, be sure to check items for stains or odours, as these can prove persistent on older fabrics. Vintage boots and shoes are often expertly made and are an ideal way to cut the cost of your footwear. If you're not a fan of retro styles, it is still possible to find simple pieces, such as shirts or pencil skirts, that you can style in a modern and on-trend manner. Be sure to pop into local charity shops, too, where fashion treasures can be found at low prices. Many charities now have flagship designer charity boutiques, making premium items available to all. Research these if you love your labels.
Club Together with Friends
Increasingly, groups of university friends are clubbing together to buy items for nights out. A fifty pound dress, split between five, suddenly becomes affordable. If you take care to only share with trustworthy friends of a similar size to you and prepare yourself for the odd disappointment, this can be a great way to indulge your fashion habit. Many students find that this tactic is best reserved for group holidays, when items can be worn repeatedly and then divided up at the end of the trip. If you don't fancy making the commitment of buying clothing with friends, consider sharing, swapping or lending. Hold a 'swishing party' where you each exchange something unwanted for an item that another friend has brought along.
Get Online
If you've got your eye on a killer piece from a big high street store, take time to look for it online. Plenty of consumers buy a dress, a bag, or a pair of shoes, wear them once or twice and then post them on auction sites such as eBay. With a bit of research, it is possible to pick up items that are still on shop shelves, for a fraction of the price.
Remember the Cost-per-wear Rule
When funds are low, it's tempting to seek out the cheap and cheerful. Whilst a spot of bargain retail therapy might be right up your street, it is important to think about how frequently you are likely to wear an item. A well made, eighty pound bag that you'll carry your books in everyday is a better investment than a five pound top that will shrink in the wash within days.Intriguingly, many fashionistas find that their style develops rapidly during their student years. Pursuing your love on style whilst on a budget causes you to get creative, explore new clothing shops and outlets and try out different looks.
You might also like...