Budget Accommodation Tips for University Students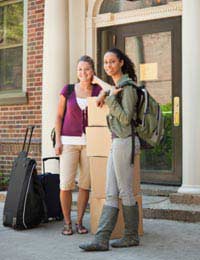 Student rents can be high, particularly in large towns and cities. Whilst it is important to enjoy your university years and find a home in which you will feel comfortable, safe and happy, there are measures that you can take to cut the cost of your rent. From dealing directly with landlords to forgoing a living room, consider these frugal tips when seeking out your own accommodation.
Contact Landlords Directly
Once you've left halls behind at the end of your first year, house hunting can prove daunting. Whilst estate agents can be useful in guiding you through the viewing and renting process, their services can also come with hefty additional costs. Rents, too, can be inflated to allow for an estate agent's commission or fees. These extra costs can be avoided by dealing directly with private landlords. Find them on online property websites and message boards, through adverts in local papers, on notice boards and through word of mouth. It is important to choose a trustworthy and professional landlord, so always ask for references. Ideally, seek out a group of final year students who have been happy with their landlord and have paid an affordable level of rent and contact them to discuss taking on their lease when they move on.
Avoid Accommodation Specifically Marketed at Students
Many fair and professional landlords choose to let their properties solely to students, offering cheap rents and flexible contracts. Many of these landlords advertise their properties through the local university and come recommended by scores of previous student tenants. Such arrangements are ideal for cash-strapped students.There are, however, a number of larger student accommodation companies that operate mainly in inner city areas, managing large blocks of flats and letting a combination of shared flats and studio units at high prices. Such accommodation is marketed directly at university goers and is often ideal for foreign students who need to be sure of a place to stay and who are keen to live with a variety of other students. Home students on a budget, however, would do better to look elsewhere.
House Hunt in Larger Groups
The more of you looking for a home together, the better your chances are of finding an affordable and attractive house or flat, with plenty of space and good facilities. Groups of four to six are ideally placed when it comes to house hunting on a budget. Remember that your rent covers not just your room, but the cost of communal areas such as kitchens, gardens, bathrooms and living rooms, so those house hunting in ones, twos or threes are likely to end up paying more when it comes to renting student accommodation.
Be Flexible
If you're prepared to be flexible with your expectations, you might just find a gem of a home at a bargain price. Take time to consider alternative living arrangements. Living in a converted warehouse with six or more other people can be a cheap student option in areas such as Manchester and London. Alternatively, a number of property management and security companies place tenants in unusual and often impressive buildings, on temporary contracts at rock bottom prices, protecting vacant properties through occupation. You might find yourself living in disused office space, in a castle or even a stately home. Such schemes are certainly not for everyone but provide an adventurous few with memorable and affordable accommodation. Perhaps the easiest way to save money when it comes to renting is to forgo a living room. Many landlords are happy for living rooms to be converted into extra bedrooms, making room for an additional housemate and cutting the cost for everyone.
For those on a budget, finding affordable accommodation is key. With a little imagination, some extra effort and a degree of flexibility, there is no reason why you shouldn't find a great home at an even greater price. Cut costs wherever possible but always be aware that you need to be able to live, sleep, work and socialise comfortably in your home.
You might also like...