How to Apply for a Student Loan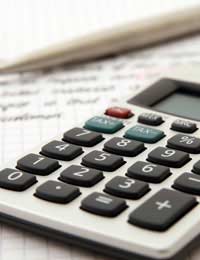 A student loan is a funding necessity for most university applicants and current students, so it's important to know how to fill out the paperwork and forms in order to receive your cash on time. Student loans are available to both new students and returning students, and there are two types.
The tuition fee student loan is available to all students, and does not involve means testing, while the maintenance student loan does require financial assessment (this means it takes into account household income - normally this will mean how much your parents earn).
Both types of student loans are initially organised by your Local Education Authority (often abbreviated to LEA) - which is the borough in which you normally live. The LEA will either provide you with student loan paperwork directly, (normally online) or ask you to fill it out to the Student Loans Company, which some LEAs hire to organise student loans. If you are unsure which LEA you come under, phone your local council to find out.
What Form Do I Need?
If you are web savvy, it's easy to apply for a student loan online. The site depends on where you live - a quick search for student loans in England, or Northern Ireland, Wales or Scotland should show you where to go. The English site, for example, is http://www.gov.uk
Each of these national student loans sites will take you through the application process step by step. If you prefer to use paper forms, and you are a new student who is going to university for the first time, then you need form PN1. If, on the other hand, you are a returning student who qualifies as a "home status" student (you live in the UK), then you will need to use form PR1 to apply. Returning students from the EU require form EUPR1.
How Do I Fill in the Student Loan Application Form PN1?
PN1 is the student loan application for new university students. It comes with guidance notes that should help you to fill it in, but here are some extra guidelines. All students are obliged to fill in section 1-6, as well as the Loan Request Form, and all applicants must also sign a signature at the end of the form. If you are applying for a maintenance loan, which is means-tested, then you will also need to fill in section 7-13. If your income is being assessed according to your household, i.e. you are not married, or regarded as an independent student.
First, you will be asked for your personal details - name, date of birth, address and so on. If you are confused by a request for your ART ID, don't worry, this is only relevant if you have previously applied. Section 3, about your residence, means providing information about your nationality as well as proof, via your passport or birth certificate. Section 4 is about the course you're applying to study for, and section 5 asks if you have previously had a student loans. Section 6 asks for your banking details, in order for the loan company to pay any loans into your account.
The Loan Request Form requires you to tick whether you want to apply for a maintenance loan or tuition fee loan. If you are interested in the former, you will have to complete the rest of the form including information on income. Note that section 9, however, is relevant only if you want to apply for a particular grant, such as the Parents' Learning Allowance, Adult Dependant's Grant, or Childcare Grant. By contrast section 10 is relevant for all applications, and requires you to write about your family.
You might also like...
I'm Audi firm student, I have lots of financial difficulties, with my studies, kindly request all please help me success my dreams, Thanking You.
Ara,
- 8-Mar-20 @ 6:18 AM
my father died recently 26th july, am doing jrf, am having financial problems , may i get anyloan to solve these problems
radi
- 13-Aug-18 @ 3:17 PM
Gossy - Your Question:
I am trying to apply for a student loan, which I have never done before; as I am embrtking on a undergraduate degree with the Maryvaile Institute in Birmingham, I would like an application form
---
Our Response:
The link
here
, which should help you further.
FundingEducation
- 27-Jul-18 @ 2:10 PM
I am trying to apply for a student loan, which I have never done before; as I am embrtking on a undergraduate degree with the Maryvaile Institute in Birmingham, I would like an application form
Gossy
- 27-Jul-18 @ 10:49 AM
I am studying b.tech 2 nd year now .I want sponsorship for my education .I want to complete my engineering so please try to understand my feeling. Thanking you
Chinnu
- 5-Jul-18 @ 4:37 PM
Thanks for bringing up this opportunities
Aurea Fredson
- 11-Sep-17 @ 6:50 AM
I am an international student who is looking forward to achieve his at the university of mangosuthu university of technology by wanting to study Chemical engineering in 2017 so the problem that I face is my parent's finance and I'm coming from a poor lifestyle so I need on how I could find an opportunity to lead this problem for addition I'm from South Africa
jey/jo
- 11-Dec-16 @ 8:50 AM
Hi...Am Hillary ..Am not well stable coz I was asking whether I get sponsorship for my wife who's first year in maseno ....helpe
hilar
- 28-Sep-16 @ 10:35 PM
My name is chisomo mpasi third year student at the polytechnic university of Malawi studying bachelor of accountancy . I am married with a kid am looking for scholarship of $1300 per year. The fees should be paid direct to the institution. I am struggling to raise the stated amount for my studies if there is any one to help please do so. Thank you.
chisomo mpasi
- 19-Aug-16 @ 12:36 PM
My name is Abel.I live in Ethiopia.I have BA degreee in management.I used to work as a purchase analyst.I want to study my MBA in Maharishi University,but I have financial problem and I am looking for sponsors to pay my tuition.Thank you
obie
- 5-Apr-16 @ 8:58 AM
hallow iam an international student in atechnical college persuing building and construction technology these is my second year in craft but my parents are poor and i have my siblings also in skul my dream of becoming an engineer is going down just becouse of poverty i was supossed to sit for my examination on july bt because of lack of cash am forced to differ until november which am not sure if i will get cash to register please kindly help secure astudy loan
ericko
- 8-Mar-16 @ 12:36 PM
hi. My son has gone to university for three years, i an a single parent looking after him, (he isstudying from home ) and i am on a low income (£11,000 per year ) My son has had all that he is intitled to with reference to student loans ect, based on my income, but as you can imadgine it is not enough to support us both at home. he is doing a course which involves a lot of computer work, and we do not have one, is their any way i can get a charitable grant to help me buy him one for his studies. He is at Coventry university, and we have applied for some places here in Warwick but they go by your postcode, and as we are on the outskirts of Warwick we dont qualify, ( i am dyslecix so find it hard to understand where i can go and get help with this!) can someone help
jewels
- 27-Sep-13 @ 3:26 PM
Pursuing Higher Education is my priority Poverty is hovering around us. All i know is I am falling short of becoming a medical Doctor My dream is fading. I need a sponsorship to help me go to tertially I am a Ghanaian and have completed Senior High School with excellent grade.
Pursuing Higher Education is my priority. Poverty is trying to erase this ambition. All I know is I am falling short of becoming a Medical Doctor. I need a sponsor to help me pursue my tertially education. I am a Ghanaian and have completed Senior High School with excellent grade. I need help to see my dream come to pass.
Greetings,I am an international student from Kenya hoping to join the University of Kent for an actuarial science program commencing in September,2012. As usual, the cost of education has been a hindering factor and I am now seeking any help in form of scholarships or student loans so I can settle this costs and pursue my dreams.It is even more frustrating since most deadlines for scholarship application have passed.Please help
Joey
- 24-Jul-12 @ 4:35 PM
My stepdaughter will have lived in the UK less than 3 years by the time she wishes to enter university (2yrs 3months) and so she will not be eligible for a student loan to cover univesity fees/maintenance. She does not want to take a 'gap year'. Are there any other places where she can obtain a student loan without exorbitant interest charges?
Olimar
- 23-Jul-12 @ 2:46 PM
I am a second year medical student, studying in Romania, but I live in the UK, can i apply for a student loan because i live in the uk and my university is within the EU?? i need to find a way to fund my tuition or i will be forced to drop out!
123
- 10-Jul-12 @ 12:56 PM
Iam a now at universty, this is a first year so may I get sponsorship? Iam Tanzanian found in Africa. Iam taking bachelor of science in computer science. My parents are very poor to implement the university cost. The government was promised to provide loan but it has failed due limitation of badget as our country is so poor economically. If you do so, I request you to provide form so that I may fill it online.
kipara
- 29-Mar-12 @ 10:01 AM