Guidance for Part-time Students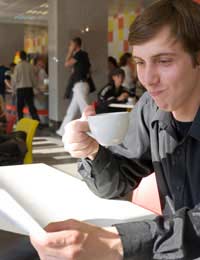 Part-time study can be a great way to complete a valuable course while still carrying on your job, or caring for your family. Full-time education doesn't suit everybody, and part-time study can provide a route into education for those who wouldn't otherwise be able to do a course.
But there are some major differences between part-time and full-time education – and these can be more significant than the hours you put in.
What is Part Time Education?
Most students in further education choose to carry on their courses full-time. Inevitably, 'full time' in a university sense does not necessarily involve the same amount of hours as a full time job might. For Council Tax purposes, for example, a student is considered to be studying full time if their course lasts for more than a year, they are expected to attend for at least 24 weeks of that year, and they are expected to study for at least 21 hours of those weeks.
Of course, this type of study does not fit everyone's life style – or, indeed, everyone's budget. Many students therefore choose to complete their course over a longer period of time, doing fewer hours' study each week. This is known as part-time education.
What are the Advantages of Part Time Study?
The benefits of part-time study are wide-ranging. Perhaps the most important benefit is the flexibility. Part-time study fits in around the rest of your life. So, if you have a job, or a family, you can be sure that you will still have the time available to deal with these responsibilities while you complete your course.
Part-time study can also be a more financially attractive opportunity. Many people simply cannot afford to study full time, and instead need to work alongside in order to pay the bills. Part-time study allows you to do this, while simultaneously providing you with a qualification that will help you to further your career.
What About the Disadvantages?
Despite the benefits, there are several major disadvantages associated with part-time study. Primarily, you should remember that it can take you significantly longer to complete your course. In fact, it is not uncommon for an undergraduate degree to take as much as seven years to finish if you choose to study in this way.
There are also potential financial implications. Although you should be able to work alongside your study, you may not qualify for some of the financial support that full-time students enjoy. This is particularly likely to be the case if you are returning to education as an adult, rather than beginning a degree or similar qualification following college.
Can I get Funding?
There is still a range of funding options available for part-time students. The part-time funding system has changed, with new rules applying from September 2012.
Broadly there are three types of funding for which you can apply: a Tuition Fee Loan, a Professional Career Development Loan, and a Grant.
The Tuition Fee Loan is only available from September 2012. These are available to those who spend at least 25 per cent of their time studying, and who are studying for their first degree. They will be administered and repaid in the same way as conventional Tuition Fee loans.
Professional Career Development Loans are bank loans. You pay interest on them, normally at a rate equivalent to 5 to 6 per cent APR. They are available for between £300 and £10,000, and you can get them from a range of High Street banks. You should remember that these are conventional unsecured debts. You should talk to your bank for more information.
Finally, Grants are available for part-time students with lower household incomes. If your household income is below £27,506, you may be able to get a Fee Grant and a Course Grant to cover part of the cost of your study. You don't need to pay this back. The details of these Grants are still being fleshed out for the 2011-12 academic year. You should speak to your local Connexions office for more information.
You might also like...