Paying for Further Education Courses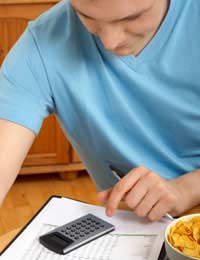 Further education can help you get to university, or to get ahead in your professional life. It's a popular choice for both young people and adult learners and can be studied at college, or sometimes in the workplace.
There is a range of financial help for all learners to help pay for further education courses and related costs.
Education Maintenance Allowance
The Education Maintenance Allowance (EMA) is a grant which is paid weekly to eligible 16-18 year olds. It was introduced in 2004 to encourage young people to stay on for further education.
The Education Maintenance Allowance is means-tested, but students from families earning less than £20,000 a year could receive up to £30 a week.
Our article on The Education Maintenance Allowance will give you more information on applying.
Adult Learning Grant
Adult Learning Grants are for students aged over 19, who are studying for a level 2 (for example 5 GCSEs or a level 2 NVQ) or level 3 (for example 2 A levels or a level 3 NVQ) qualification for the first time.
The grants are means-tested but learners could be eligible for up to £30 a week. You and any partner that you live with will be assessed, and to receive the maximum amount you must earn less than £19,000 per year.
To qualify you must be studying at a school, college or institution which has been approved by the Learning and Skills Council. Your course must also be full-time and include at least 450 hours of guided learning over the year. This works out at about 12 hours per week and doesn't include any workplace learning.
To apply you can ask a student adviser at your college for guidance, or call the designated Learndirect advice line (0800 100 900).
Living Away from Home
Most students studying for a further education course will attend a college or school close to where they live. It's not always possible, however, as some specialist courses are only offered by selected education providers.
If you would need to move away to study your chosen course, help may be available to pay for your accommodation and travel costs. The first place to look for help is the college which you want to study at. Many offer scholarships, grants and bursaries to students.
You may also qualify for help under the government's Residential Support Scheme. Means-tested awards of up to £3,295 (£3,886 in London) are available to spend on accommodation and travel costs. You can download an application form from the Directgov site.
Learner Support Funds
If you face financial hardship after you've started a further education course, you could receive help through a Learner Support Fund.
Individual colleges and schools administer their own Learner Support Funds so the amounts available and the criteria will vary. In order to apply you'll need to provide proof of income and outgoings. Learner Support Funds are open to all students.
Dance and Drama
If you plan on being a star and want to study for a selected performing arts course, some financial help could be available in the form of a Dance and Drama Award.
Dance and Drama Awards are offered by 21 private dance and drama colleges. The Directgov site provides a full list of the courses and providers available.
The awards are means-tested. You can receive help for some of your fees, although you'll have to pay something towards them yourself. On top of this you could receive up to £4,602 towards your living costs.
Initially the awards are decided on the strength of auditions and talent. Once you've been accepted onto a course, your school or college will send you information about applying for more financial help with accommodation and living costs.
You might also like...
Is there any funding available for a 23 year old who has decided to go to college to train as an accountant while still working as a part time lifeguard. His pay is not brilliant. He has just funded the first level himself which was managable £ 400three payments last one paid two weeks ago. The level 2 starts next week and will cost shy of £900 this has to be paid in three instalments first one to be paid on enrolment. This will be a struggle ...where is the help for people who don'texist in benefits, where is the incentive for hard workers who have worked since leaving school and want to start to retrain.
please,I am in the university of cape coast Ghana. level 200,offering B.Ed social studies. please I need financial support to further on.
Minister kobby
- 22-Aug-14 @ 1:25 PM
I'm looking for some where to help me to pay for a course it's in a adult education program it's psw the total amount for this course is 1.460.00. The course is at Lc-Limestone Education Center. I hope you get back to me soon.
Barb
- 29-May-14 @ 2:01 PM
Am just looking for sponsors to help me pay for my visa,medical ,transport and stationary amounting to $3000.00 dollars and the wilderness trust paid for my course fees but am seeking some funds to help me pay for these i mentioned here above.
sianga
- 9-Nov-13 @ 12:38 PM
My daughter has been awarded less than the cost of her accomodation alone to live on when she starts university in Spetember. Although on paper our income looks okay, a series of family situations including my husbands heart attack 2 years ago and subsequent 8 months off work without pay and my redundancy leading to my income falling from £38,000 to approximately £16,000 (not guaranteed) has meant we are on an IVA and unable to support her financially. I also have M.E. and Fibromyalgia which limits the hours and type of work I can do. I am now worried sick as to how we can support a very bright child through uni. I would appreciate any advise you can give.
Nelly
- 25-Aug-12 @ 10:52 PM
i am interst to finish my matric , want to be a teacher an further education but dont have the funds to do so . what is the requirments to apply an success fullin my reguest . my contact number 0732741688 live in cape town somerset- west sir lowry's pass 4 school street 7133. hope to hear from soon
BOLLA
- 11-Aug-12 @ 10:29 AM