Tax for Students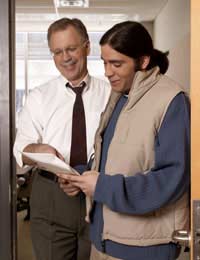 Tax can be a confusing area at the best of times, and working out what tax you need to pay as a student is no exception. It's important that you pay all the tax you owe, but it's equally important that you don't overpay as you could lose out on money, and let's face it you'll probably need every penny!
Tax on Income
There is a prevailing myth that students don't pay income tax. This isn't true. In fact everyone is liable for income tax, but it is linked to what you earn, and you are allowed to earn a certain amount tax-free.
Currently, the amount you can earn before you have to pay tax is £5,225 per tax year. On average students earn about £6,000 a year so most don't pay much tax at all.
You are taxed on anything you earn over this personal threshold of £5,225. If you earn:
up to £2,230 over this you will be taxed 10% on that amount.
between 2,231 to £34,600 over it you will be taxed 22% on that amount.
Over £34,600 above the threshold you'll be taxed at 40%.
Summer Jobs
If you earn a steady amount throughout the year, you'll pay tax like any other employee at the rates outlined above. However, if you only work in the summer or holidays and won't earn more than £5,225 you'll need to fill in a P38(S) form as soon as you start working. This will ensure you won't be taxed as if you were earning that amount of money all-year round.
Self-Employment
If you decide to work on a self-employed basis as a student, you'll still need to pay tax and you'll have to deal with this side of things yourself. At the end of the tax year you'll need to fill in a tax return so you must keep accurate financial records throughout the year, detailing your profits and expenditure.
Other Taxable Income
As well as income from employment, some other forms of money are also taxable. These include:
Tips or bonuses from work
Share dividends
Jobseekers' Allowance
Savings interest
Tax on Financial Help
Although any financial help you receive is a form of income, the good news is that most of it isn't taxable. You don't have to pay tax on the following forms of financial help:
Student Loans and Grants
Money or loans from your parents and relatives
Most scholarships and research awards
Academic prizes
Income from ISAs
Council Tax
Council tax is charged by household and paid to the Local Authority. Full-time students don't usually have pay council tax. If you live with all students you won't have to pay council tax. Your house may well be already registered as exempt from council tax but if not, or you receive a bill, you just need to ask your Local Authority for an exemption form.
If you are a student and you live with non-students, you are exempt from paying council tax but those who aren't studying must still pay the full amount for property. This is a matter for you to decide with your housemates but some students in this situation feel it's only fair to make some contribution to the council tax.
Part-time students are still liable for council tax. If you have a low income or live alone you may be eligible for up to a 25% discount.
National Insurance
As a student you probably won't earn enough to pay national insurance. However, if you earn over £100 per week Class 1 contributions will be deducted from your wage. How much you pay depends on what you earn.
You might also like...
Hello there, I'm facing hardship and i'm from poor background, I'm looking for someone or Organisation to sponsor my studies,Currently i'm taking Bachelor Degree in Business Admnistration . I'm from Dar es salaam,Tanzania. Thanks for your time reading this.
Geof
- 15-Apr-16 @ 5:10 PM
I have done M.Sc Biology. I want to apply for M.Phil in Foreign by scholarship. kindly guide me properly.
sid
- 28-Aug-13 @ 5:20 PM
hi am i a diploma holder in law am looking for a sponsor for my degree am from kenya Nairobi, am twenty three years old.looking forward to hear from you thanks .
kelvo
- 14-Sep-12 @ 5:44 PM