Applying for Financial Help for a Higher Education Course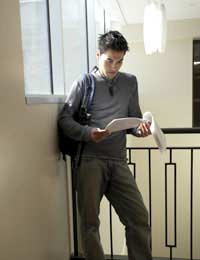 There is a lot of financial help available for higher education students, and you'll need to know how to apply for it in order to get everything you're entitled to.
Luckily, the student finance application process is quite straightforward-you just need to know where to look and when to do it!
When to Apply for Student Finance
The earlier you apply for grants and loans the better, and you can start your student finance application as soon as you start applying for courses, or as soon as the finance application forms are released.
You don't have to wait until you have been accepted onto a course to apply. You can initially just put down the course you are most likely to be taking and then change this later if you need to.
If you want to receive any money, such as loans and grants, by the start of the September term you'll need to get your application in by the end of June. If you apply after this date it isn't too late, but you may not receive your money until after term has started.
How to Apply for Financial Help
You can apply for financial support by post or online. If you would prefer to fill in a paper form you can get one from your Local Authority. If you are happy to make your application online, you can go to the Student Finance Direct website. They are the company which administers student finance.
Your application will then be assessed in terms of household income and personal circumstances, and once the decision has been made you'll receive details of your entitlement and payment schedule.
Exceptions
If you're applying for a part-time higher education course, you will need to fill in a PTG1 form, available from your Local Authority or the Direct Gov site. You then take this form into your college or university once you have started your course. They will fill part of the form in and usually submit it for you or provide you with instructions.
If you're applying for a course at the Open University, you will apply for financial help directly through them, so you'll need to contact them about how to do this.
Completing Your Application
As your application has to be assessed there are a few documents and pieces of information you'll need to include:
Details of Your Parents' or Spouse's Income
Your passport
Your birth certificate
Documents pertaining to any extra help you're applying for, for example childcare or disability allowances
You should start sorting the relevant documentation out as early as possible because if anything is missing your application could be delayed.
Scholarships and Bursaries
You can apply for scholarships and bursaries at the same time as the rest of your student finance package. Some universities administer their own scholarships and bursaries, and others are handled by Student Finance Direct. There is a section on the application form where you are asked to tick if you're happy for the information to be shared with your college or university. You must tick this as forgetting to do so has meant that some students have missed out on this financial help in the past.
Student Finance Payments
Your student finance payments will usually arrive at the start of each term (depending on when you applied). If you apply online you are able to track your account and payment dates by logging on to the Student Finance Direct website.
You might also like...
Am from Nigeria, i need finacial help to further my education. am from a very poor family and i struggled to train my self. am in ND2 LEVEL AT FEDERAL POLYTECHNIC IDAH, KOGI STATE NIGERIA. pls i really need help to continue my school. GOD WILL KEEP INCREASING SIR/MA. Please help me 07041617990
Favy
- 6-Jan-21 @ 10:33 AM
I'm Gadisa Duguma from Ethiopia and I need to further my education to PhD in Biology. To afford my study, I need financial assistance Thanks in advance for your consideration!
Gad
- 5-Aug-20 @ 11:26 AM
I am Saydul from Bangladesh. I am studying CSE. My studies are almost closed due to financial problems.I need financial support to reach my goals.I want be a skilled Software Engineer. Please help me !!
sohag
- 27-Jun-20 @ 4:57 PM
I'm an electronic engineering graduate from Ghana and am seeking for a help to continue my study on engineering abroad
Joseph
- 11-Mar-20 @ 7:25 AM
Am a student at Moi University in Kenya am looking for assistance in paying my tuition fee,,my parents are unable to raise my school fees. Thank you.
Jacky
- 16-Feb-20 @ 3:07 PM
I want be a football coach so it's need coaching lessens but I don't have fee please help me
Vika
- 28-Jan-20 @ 10:24 AM
Please help me my education but iam not paying fees.my study in Bachelor of educationa for teacher training. My family was very poor help me
Bujji
- 4-Jan-20 @ 8:23 AM
i am a 24 year-old and i pursued degree in computer engineering. i need your support to further my education in Data analytics
SS
- 27-Dec-19 @ 11:36 AM
Hi. I'm Collin Lemban Papua New Guinean citizen stuered died at Bumayong Lutheran Secondary School. I need some help for financial assistanc. I was offered a letter to study in goroka university, accounting & business management. I'm asking for your help to further my education. I will be happy to get any support out their. God bless you if anyone seen these message. Help!Need support.
SoKoLeH
- 12-Nov-19 @ 9:54 AM
Hi. I'm Collin Kia Lemban 22 year old Papua New Guinean citizen. I need some financial assistance to afford my studies in other countries please,is anyone read these comments will help me in Gods name. I also pray for you as wel.
SoKoLeH
- 12-Nov-19 @ 9:34 AM
I am a young and healthy Nigerian seeking to further in his Education. I have been given an admission to study Msc in Budgeting and public financial management ( Department ofCentre for policy Analysis and Research, University of Lagos, I use this medium to seek for financial help, so as to make my pursuit a reality. Thanks in anticipation for your consideration
Ade
- 8-Nov-19 @ 10:04 PM
I am from ethiopia, i want to upgrade my education to MA, for this to happen i need money help, please help my dream come to true. Best regards,
Baya
- 29-Sep-19 @ 6:57 PM
I am from Ethiopia, i have BA in management, i need to continue my education with MA, but current situation is not good for me. If I get MA i will be qualify for promotional position. Total cost of education fee is $3,000. Please, help me to achieve my goal. Best regards,
Baya
- 24-Sep-19 @ 2:44 PM
Iam a Kenyan by nationality 26 years old. Schooled at masinde Muliro University with a bachelor's degree in education arts. Graduated in 2015. I really have a strong desire to persue my masters. But financially lam not stable because l support my siblings financially after my mothers death. Please lbeg for help. Looking forward for one to help me achieve my dreams. Thanks in advance as l wait for your response
Hope
- 17-Sep-19 @ 9:32 AM
I want to do Commercial Pilot License can you please help me in achieving this. I will repay who ever will help me.
Pilot
- 27-Aug-19 @ 7:42 PM
I would like to inform all ofmy hardships in life,I've been struggle for so many to pursuit my educational dream but every time I do financial problem hit me back making me lose great opportunity of continuing my education. Now I have received admission ones again please help me get this time to enroll this time thank you. Samuel
Samuel
- 22-Aug-19 @ 1:57 PM
Currently, I'm going to get admission in KFUEIT. I'm from north east . My family is a broken family and there's so much of financial backward in my family. My Mother is never aware of me and how my studies is going on and totally from a broken misunderstanding family. I need financial help for my further studies and because of my family pressure I've anxiety and depression. I fear I might not be able to fulfill my dreams so I need financial help for my studies. My father was died 12 year ago.
Haroon
- 8-Aug-19 @ 9:01 AM
Currently, I'm pursuing my B.A. sociology Hons in University of Delhi. I'm from north east . My family is a broken family and there's so much of financialbackward in my family. My parents are never aware of me and how my studies is going on and totally from a broken misunderstanding family. I need financial help for my further studies and because of my family pressure I've anxiety and depression. I fear I might not be able to fulfill my dreams so I need financial help for my studies
Nana
- 30-Jul-19 @ 7:43 AM
sir, I am from development country and have offer letter from UK university and I am unable to pay my Fee and handle other expense. I want to do master. I would like someone/companies to sponsor my studies as i don't have parents or someone in my family to help me. looking for financial assistance to further my education in Business Mnagement. I will be glad to get any support out there.. God bless Thanks POPI
popi
- 21-Jul-19 @ 12:54 PM
Sir i am student of m.phil chemistry. My father has been died now i am so much worried about my next studies please help me for my fee
Tabi
- 22-Jun-19 @ 4:51 PM
I would like someone to financially assist me because I belong to a middle class family. My parents are teachers and they have younger siblings to support. A bit of help is all I need. I don't want to burden my parents. If you'll help me today I will pay the gratitude by helping other students like me in near future. Thank you
Saruu
- 8-May-19 @ 12:20 PM
am kindly asking anyone to assist me meet my dream as student , I want to be an IT managerbut lack financial support anyone willing to contact me through 0707729634
benardo
- 1-May-19 @ 1:33 PM
I need financial assistance so that I can complete my studies. I have five semesters pending to complete my degree in Bachelor of Business Administration. I can't continue my semester for financial problems. Tension is stepping me to suicide, Please help me presently. Anyone help my life would move forward in success.pls, help me.
Razu
- 28-Apr-19 @ 7:22 AM
As I need to complete up ma engineering, and ma mom s single parent and since she need to even handle ma bro along with me ,she s unable to fund fr ma final year so please .I kindly request if anyone could kindly help me out ......!!
Deepa
- 15-Apr-19 @ 5:58 PM
please help me am in of funs to sponsor my education and from South West of Cameroon please your help will play a big rule in my life. thank you and may GOD Bless as you do so.
Boysimple
- 1-Apr-19 @ 4:21 AM
Indian citizen (Naga) here. Goal : Planning to pursue M.A in rural development and planning Status : With illiterate widow mother Any kinds of assistance (financial or advices or directions) shall be highly appreciated. Thank you!
Rukuveto Lohe
- 18-Mar-19 @ 2:56 PM
Need financial help for further education. For 1st PUC. Thank you.
Pratham
- 2-Feb-19 @ 5:03 PM
Sir i successfully get scholarship for higher study in china but I have no money for passport visa traveling or other expenses plz help as soon as possible
Hamza
- 28-Jan-19 @ 11:16 AM
Hey! This is maria ..I want to know that ifthere's full scholarship or need based scholarship available .we are not financial strong so Iam not willing to pay the fees ..kindly tell me if there's any scholarship ,I got 58% in intermediate..plz tell me am I eligible for the scholarship or not. I will be grateful to you if you offer me full scholarship . Thank you!
Maria. Binte naeem
- 14-Jan-19 @ 9:41 AM
Please help me for my further studies my mother is single mother she can't teach me future studies because of her health eussis own I howhere I am completing my 12th please help me ......
Amar Damu Jadhav
- 12-Dec-18 @ 1:59 PM