Studying Abroad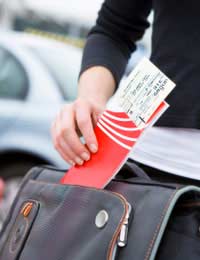 A lot of UK university courses these days involve a year of studying abroad. In fact, this is part of what attracts many students to some courses. Time spent studying abroad enables students to broaden their education, boost their CV, travel and learn about life in another country.
What's not to like about the idea? What puts many students off is the confusion over where they will stand in terms of their student finance package and what they have to pay in fees.
Is study abroad expensive?
The range of countries available to study abroad is often vast, so many students worry that this could have an effect on what they have to pay. For example, students can travel abroad to study in places as varied as Russia, America, Japan, China, Spain and the Middle East.
However, the country where a student studies abroad does not usually have an effect on how much they have to pay. In fact students studying abroad will not usually pay any more than they would at their home university. Sometimes they will even pay less.
The amount a student will have to pay in fees will also be affected by how long they are going abroad for.
Often students will receive up to a 50% reduction in fees at their home university and sometimes they won't have to pay any fees at all. Students studying for a year abroad under the ERASMUS scheme, for example, don't have to pay any fees for that year.
Additionally, apart from in the case of a minority of overseas universities, students studying abroad will not have to pay any fees at their host university (that is the university they are studying abroad at).
It's worth noting that the living costs in some countries are lower than in the UK, so studying abroad for a year could actually work out cheaper.
Financial assistance studying abroad
There is financial help available to help students spending a year or less studying abroad, as part of their course, to pay for any studying and living costs.
The main forms of financial help available to students studying abroad are:
The ERASMUS mobility grant
Local Authority support
Access to Learning Fund
Bursaries
Students who are studying abroad as part of the ERASMUS programme will be eligible to receive the ERASMUS mobility grant. Students will receive around £324 per month.
Students who are studying abroad may still be eligible for a means-tested student loan for living costs at the overseas rate. Eligible students who will only study abroad for part of the year will receive the overseas rate on a pro-rata basis. The current maximum overseas loan rate is £5,225 per year (£4,570 for final year students).
The Access to Learning Fund provides help to students who are having financial difficulties. Universities provide this assistance by examining each individual's case. However, students who are studying abroad are still eligible to receive this help.
Finally, increasingly universities are providing bursaries to students who are studying abroad. Enquire about these bursaries on an individual university basis.
You might also like...