Financial Help for Disabled Students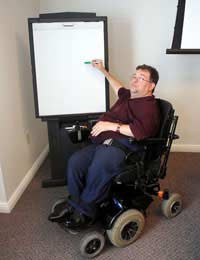 Disabled students who are studying for a higher education course are eligible for the usual package of student finance as well as some extra support.
The financial help for disabled students which is paid on top of the standard student finance package includes:
Disabled Students' Allowances
Access to Learning Fund
Disability Living Allowance
Incapacity Benefit
Disabled Students' Allowance
The main form of help for disabled students is the Disabled Students' Allowance. The Disabled Students' Allowance is a grant which doesn't have to be repaid. The grant is awarded to help disabled students with extra costs they incur while they are studying as a result of their disability.
For example, the Disabled Students' Allowance can be used for purposes such as:
Specialist equipment
Non-medical help at university or college, for example a note-taker
Travel costs
Both full-time and part-time students are eligible for Disabled Students' Allowance and distance learning courses are included. Some disabled students receiving certain bursaries are not eligible for Disabled Students' Allowance.
To apply for the Disabled Students' Allowance, full-time students need to fill in the DSA1 form, which can be downloaded from the DirectGov site or you can obtain a hard copy from your Local Authority. The form needs to be returned to the address which is indicated on it.
Part-time and postgraduate students also need a DSA1 form. However, they need to take it into to their university or college so that it can be signed before being posted back to the address on the form.
Benefits for Disabled Students
As well as the standard student finance package and the Disabled Students' Allowance, disabled students may be eligible for additional government benefits, for example Disability Living Allowance and Incapacity Benefit.
Disability Living Allowance is paid to adults with mobility or personal care needs to help them pay for help with these needs. Disability Living Allowance is paid in two parts:
The care component; and
The mobility component.
Incapacity Benefit is a government benefit which is paid to disabled people who can't work because of their disability. Students already claiming Incapacity Benefit when they commence their course may still be able to carry on claiming it.
Incapacity Benefit is not affected by Disability Living Allowance or the standard student finance package.
Standard student finance package
All eligible higher education students, not just disabled students, are entitled to some help with their tuition fees and living costs. This help includes loans, grants, scholarships and bursaries.
This package is not affected by any of the extra help for disabled students detailed above. More information on the standard student finance package is available here.
Additionally, like all students, disabled students are eligible for the Access to Learning Fund. Access to Learning Funds are there to help students who run out of money while they are studying, through, for example, an emergency or late payment of other financial help.
Student advisors are on hand at universities and colleges to advise on applying for Access to Learning Funds.
Many universities now employ a disability advisor and they are on-hand to advise and support all disabled students on issues such as finance, welfare and academic matters. If you are a disabled student, or about to become one, you will probably be introduced to a disability advisor. It's also worth enquiring about disability support when you are researching universities and colleges to apply to.
You might also like...
Hi A' m anu from sri lanka .I have a little daughter 6 years old now ,I'm not doing any job .My husband working in a garmentas a labour.We are living in a rental house .Haven't own house.We have not enough income .So If any respectoble sir/madam can to sponsor our daughter's education It's great helpfull encourage to build up our life.
Anu
- 9-Sep-19 @ 10:57 AM